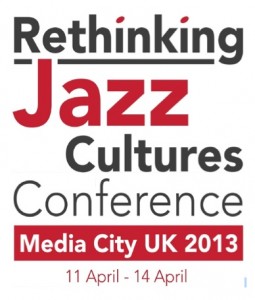 So
looking forward to this conference at MediaCityUK, the culmination of our three-year
HERA
-funded European jazz research project,
Rhythm Changes: Jazz Cultures and European Identities
. We have over 100 delegates coming from 20 countries, and I am especially looking forward to seeing the British jazz historian and photographer Val Wilmer talking, about some of her famous images and her career, on the Sunday. And there's a photography exhibition, with a special commission, several bands playing live, a music commission too. (The full programme is
here
.) So we have academics, independent researchers, media practitioners, musicians, all talking as an international community of jazzers. As my friend and colleague—and you know what, we are all friends and colleagues on this project, that's been one of the many great things about it—Prof Tony Whyton puts it, in his welcome notes in the conference programme:
Rhythm Changes has drawn on the expertise of 13 researchers who work across 7 institutions in 5 European countries, but the growing network of partners, musicians and scholars—including those participating in the 2011 'Jazz and National Identities Conference' in Amsterdam and 'Rethinking Jazz Cultures' in Salford—means that the scope and impact of Rhythm Changes is ever widening. Our packed conference programme offers stimulating keynote presentations and panels, plenary sessions, papers, performances, poster presentations and exhibitions, all of which should [will!] generate high quality debate and discussion. Rhythm Changes has sought to encourage people to rethink the way jazz has been articulated, represented and understood, and this conference will be a powerful reflection of this core aim.