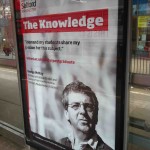 Professor of Media Studies, University of East Anglia (UEA), Norwich, previously occasional poster boy for my last university (see right). More-or-less up-to-date CV accessible here.
I am currently a REF21 panel member for Unit of Assessment 34, Communication Cultural & Media Studies/Library & Information Management. From 2012-2019 I was an Arts & Humanities Research Council Leadership Fellow for the Connected Communities Programme.


In November 2014 I moved from the University of Salford to UEA, to a new chair in media studies, in the School of Art, Media & American Studies.
Below are key activities I have been involved in since 2010. (TBH I am not really updating this. I mean, does anyone even read it?)
---
2016 lead organiser, Researching (Jazz) Festivals symposium, Cheltenham Jazz Festival
2016 member, organising committee, 4th international Rhythm Changes conference, Birmingham City University, Jazz Utopia
2016 lead organiser, Changing the Future Research Landscape? A Connected Communities Early Career Researchers conference, UEA
2015-2018 co-investigator, Cultural Heritage and Improvised Music Festivals in Europe (CHIME) Heritage+ JPI project (total award €650,000)
2015-2018 Connected Communities Leadership Fellowship renewal award (£480,000)
2015-2018 BA International Media and Communications external examiner, Nottingham University
2015 lead organiser, Soundings and Findings: A Connected Communities Research conference, UEA
2015 published The Pop Festival: History, Media, Music, Culture (Bloomsbury)
2015 organiser, Festival Cultures conference, UEA
2014- Professor of Media Studies, UEA
2014 Professor in Residence, EFG London Jazz Festival
2014 co-organiser, Future Thinking: AHRC Audio-Visual Archives symposium, MediaCityUK
-2014 supervision: PhD students across media, music, cultural studies, practice, Salford
2014 AHRC award, Carnivalising the Creative Economy film and knowledge exchange panel, Creative Economy Research Showcase, King's Place, London (£7,274). Watch the film we made with jazz researchers and festival directors here
2014 Curator of AHRC academic content for Cheltenham Jazz Festival
2014 Member, organising committee, Rhythm Changes Jazz Beyond Borders conference, University of Amsterdam
Recent teaching responsibilities, University of Salford: one undergraduate module (Alternative Media, year 3/level 6)
2013 Member, organising committee, Digital Economy 'all hands' meeting, MediaCityUK, plus workshop coordinator on AHRC Digital media communities
2013 AHRC community media panel coordinator, Salford Media Festival
2013 published Shakin' All Over: Popular Music and Disability (University of Michigan Press)
2013 Member, organising committee, Rethinking Jazz Cultures conference, MediaCityUK. The summative event of the three-year Rhythm Changes European research project
2012-2015 AHRC Leadership Fellow, Connected Communities Programme (£359,000)
2012-2013 AHRC Connected Communities programme, co-investigator: Community Gardening, Creativity and Everyday Culture (total award £79,588)
2012 Lead organiser, International Association for the Study of Popular Music (IASPM UK & Ireland) biennial conference, Salford: Imagining Communities Musically: Putting Popular Music in its Place
2011-2013 Salford, REF2014 submission leader, unit of assessment D36
2011 AHRC Connected Communities programme, award holder (£26,773) to produce a scoping study: Community Music: History and Current Practice, its Constructions of 'Community', Digital Turns and Future Soundings
2011 Member, organising committee, Rhythm Changes Jazz and National Identities conference, University of Amsterdam
2011 Professor in Residence, Kendal Calling pop festival
2011 published Radical Gardening: Politics, Idealism and Rebellion in the Garden (Frances Lincoln)
2011 Media Communication and Cultural Studies Association (MeCCSA) 2011 annual conference, lead organiser, Salford
2010-2014 BA Media Studies external examiner, University of East London
2010-2013 MA external examiner, Bradford Media School, University of Bradford
2010-2013 Researcher, Rhythm Changes: Jazz Cultures and European Identities EU HERA/FP7 award (€1m)
2010-2011 Media, Communication & Cultural Studies Association (MeCCSA), elected executive committee member
2010 one-year sabbatical, Spasticus: Popular Music and Disability, including AHRC Research Leave Award (£37,594) to write a monograph
2007-2013 AHRC Peer Review College, and Knowledge Exchange College member, media, music
2005-2013 Director, CCM Research Centre, MediaCityUK
2002-2010 founding co-editor, Social Movement Studies: Journal of Social, Cultural and Political Protest (Routledge)