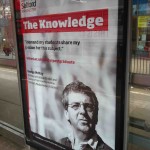 Professor of Media Studies, University of East Anglia (UEA), Norwich; previously occasional poster boy for my last university (see right). Fairly up-to-date CV accessible here. Citations information (does anyone read that stuff?) here.


In 2021-22 I was a REF21 subject panel member for Unit of Assessment 34, Communication Cultural & Media Studies/Library & Information Management. From 2012-19 I was an Arts & Humanities Research Council Leadership Fellow for the Connected Communities Programme.
In November 2014 I moved from the University of Salford to UEA, to a new chair in media studies, in the School of Art, Media & American Studies. You can read my UEA staff profile here.