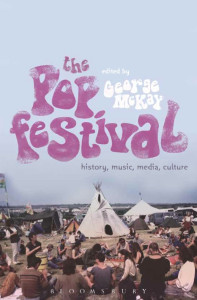 This book was published in summer 2015 (Bloomsbury).
I'm going on down to Yasgur's farm / I'm going to join in a rock 'n' roll band / I'm going to camp out on the land / I'm going to try and get my soul free.—Joni Mitchell, 'Woodstock' (1970)

Oh is this the way they say the future's meant to feel / Or just 20,000 people standing in a field…. / In the middle of the night it feels alright / But then tomorrow morning, oh then you come down. / What if you never come down?—Pulp, 'Sorted for Es and whizz' (1995)
Woodstock is only the tip of the iceberg. Popular music festivals are one of the strikingly successful and enduring features of seasonal popular cultural consumption for young people and older generations of enthusiasts. From pop and rock to folk, jazz and techno, under stars and canvas, dancing in the streets and in the mud, the pleasures and politics of the carnival since the 1950s are discussed in this innovative and richly-illustrated international collection. Today's festivals range from the massive—such as Rosskilde or Glastonbury Festival, Notting Hill Carnival or (until recently) Love Parade—to local, small-scale or the recently-innovated 'boutique' events.  The Pop Festival brings scholarship in cultural studies, media studies, musicology, sociology, and history together in one volume to explore the music festival as a key event in the contemporary cultural landscape—and one of major interest to young people as festival-goers themselves and as students.
---
Contents
Introduction. George McKay
Chapter 1. 'The pose … is a stance': popular music and the cultural politics of festival in 1950s Britain. George McKay
Chapter 2. Out of sight: the mediation of the music festival. Mark Goodall
Chapter 3. 'Let there be rock!' Myth and ideology in the rock festivals of the transatlantic counterculture. Nicholas Gebhardt
Chapter 4. 'As real as real can get': race, representation, and rhetoric at Wattstax, 1972. Gina Arnold
Chapter 5. The artist at the music festival: art, performance and hybridity. Rebekka Kill
Chapter 6. Photo-essay: Free festivals, new travellers, and the free party scene in Britain, 1981-1992. Alan Lodge
Chapter 7. Festival bodies: the corporeality of the contemporary music festival scene in Australia. Joanne Cummings and Jacinta Herborn
Chapter 8. The Love Parade: European techno, the EDM festival, and the tragedy in Duisburg. Sean Nye and Ronald Hitzler
Chapter 9. Protestival: global days of action and carnivalised politics at the turn of the millennium. Graham St John
Chapter 10. Alternative playworlds: psytrance festivals, deep play and creative zones of transcendence. Alice O'Grady
Chapter 11. No Spectators! The art of participation, from Burning Man to boutique festivals in Britain. Roxanne Robinson
Chapter 12. Musicking in Motor City: reconfiguring urban space at the Detroit Jazz Festival. Anne Dvinge
Chapter 13. Branding, sponsorship, and the music festival. Chris Anderton
Chapter 14. Everybody talk about pop music: Un-Convention as alternative to festival, from DIY music to social change. Andrew Dubber
Index