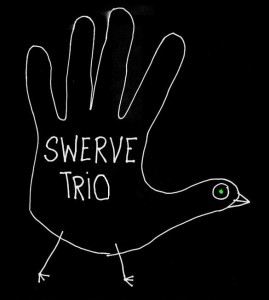 Here are some videos of Swerve Trio playing live. (Technical note: I use a flipcam, position it somewhere steady and secure where I hope it will pick up all the musicians, and not too much extraneous noise, turn it on and let it record for an hour until its memory runs out. I look at it on a macbook later and decide if there is a decent number in what's filmed, and if so edit that using the flipcam's idiot-proof software and upload it to youtube.) Numbers featured, to give an idea of the band's repertoire and style:
'This heart of mine', 1946 standard, live at Dukes Theatre, Lancaster, May 2012.
'Alleycat boys', original composition by George, recorded May 2012.
'Mellipsis', one of George's old originals, plucked from the Glasgow archive (written c. 1990), recorded May 2012.
arrangement and performance of 'St James Infirmary', the number we opened Morecambe Jazz Club with in March 2012.
'Early winter'. Swinging improvisation, original trio composition (December 2011).
 'Footprints'. Wayne Shorter's modern jazz waltz, extended (May 2011).
'St James'. New Orleans standard, modernised (May 2011).
'I love Paris'. Cole Porter's number, given a bit of a two-beat stomp (June 2011).
We hope you enjoy! Let us know.
Oh, and here is a gallery of black and white images of of a 2012 Swerve gig at the Stonewell Tavern, Lancaster—one of our favourite pub live music venues—taken by photographer Valentine Archer.