… yes, jazz jouissance …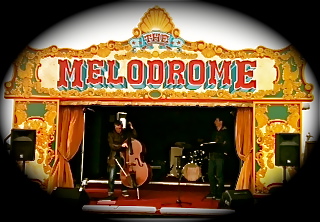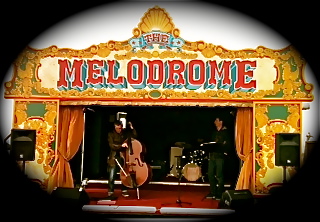 This was a Lancaster-based band I was in for three or four years until the end of 2014. Loved it, actually. Drums-soprano sax-double bass; so, lots of

space. Three academics! I started writing for Swerve as well, which was a nice thing to get back to doing—because it was two single-note melody instruments it meant once I had a bass line I liked I just needed a melody. Then let the band find the way the song could work in rehearsals (and drop ones that didn't seem to work).
Lots more Swerve videos here and music here. We were talking about recording some of our regular gigs at The Robert Gillow to see if we could release some of the live stuff we were working up there in our residency over 18-24 months. Shame we didn't actually manage to do that, really…
---
Nick Gebhardt :soprano saxophone

Richard Rushton :drums

George McKay :double bass
Available for club and pub gigs, benefits for causes we support (ask!), intriguing art/cultural/multi-media events, experiments and improvisations, collaborations, soundtracks, festivals…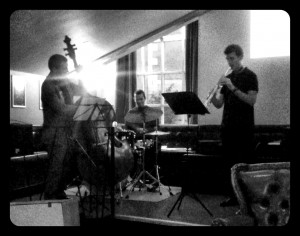 Reworked jazz standards from modern backwards, the odd reggae or pop classic, and some originals, given a swerve, a twist, in a sonic exploration of space, vibrato, percussive possibilities, meanders, melodies, intervallic contrast (soprano with bass?), chordless and bible-black. For students and lovers of jazz all around, for those who profess improvisation, for fans of oxymorons: a full sound with an aesthetic of emptiness. Nick says we take jazz standards and empty them out. Tunes everywhere.
---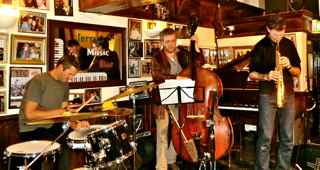 GIGS AND APPEARANCES:
alternate Mondays, residency, Modern Jazz Mondays, The Robert Gillow, Lancaster
October, 2 gigs
September, 5 gigs, inc Lancaster Jazz Festival
22 July, The Robert Gillow, Lancaster
24 & 10 June, 9 pm, Modern Jazz Mondays, The Robert Gillow, Lancaster
13 June, 9.30 pm, The Stonewell Tavern, Lancaster
27 & 20 May, 9 pm, Modern Jazz Mondays, The Robert Gillow, Lancaster
29 & 15 April, 9 pm, Modern Jazz Mondays, The Robert Gillow, Lancaster
4 April, 9.30 pm, The Stonewell Tavern, Lancaster
11 March, 9 pm, Modern Jazz Mondays, The Robert Gillow, Lancaster
9 February, 9 pm, The Robert Gillow, Lancaster
24 January, 9.30 pm, The Stonewell Tavern, Lancaster
12 January 2013, 6pm, The Robert Gillow, Lancaster
27 October, 9 pm, The Golden Lion, Lancaster, with support from Adverse Camber
14 October, 3-5 pm, The Robert Gillow, Lancaster; part of Lancaster Music Festival
28 September, 6.30-7.30 pm, Dukes Theatre, bar. Free entry
18 September, Lancaster Jazz Festival: Jazzology II event (live music, jazz film, discussion), Dukes Theatre, 4.45-5.45 pm
3 September, Duke Theatre bar, 6-8 pm
30 August, 9.30 pm, Stonewell Tavern, Lancaster
25 August, evening, The Robert Gillow, Lancaster
7 July, 12-5 pm, Summer Daze tent, Fairfield Fun Day, on a lovely patch of green, Lancaster

6 July, 7.30-8.30 pm, York Hotel, Morecambe, in the Morecambe Jazz Festival
23 June, afternoon, somewhere outdoors round Lancaster Castle, street party. Swerve Duo
24 May, 9.30 pm, The Stonewell, Lancaster.
19 May, 6.15-7.15 pm, Dukes Theatre bar, Lancaster.
13 May, 12 noon, Melodrome Stage, Catch the Wind Kite Festival, Morecambe.
21 March, 7.30 pm, Morecambe Jazz Club, The Hothouse, Morecambe. Playing as part of the opening night at the new regular live jazz evening at More Music's cool upstairs club venue.
12 February, 3-6 pm, Jazzology I: the first in a new series of jazz music and film events: 'a Sunday afternoon of deep bass grooves, sonic explorations and jazz standards, featuring Swerve Trio, Adverse Camber (double bass duo), Maja Bugge (solo cello) plus a screening of The Cry of Jazz (1959).' £3 (kids are free). The Gregson Arts Centre, Lancaster
January 19 2012, 9 pm, The Stonewell, Lancaster, with piano/bass duo featuring Dave Wright and Ken Johnston
November 2 2011 radio broadcast of Swerve Trio, plus interview with bassist George, on Diversity FM
October 11 ( 6-7 pm) Dukes Theatre, Lancaster—as part of the third One Planet Festival
17 July (afternoon) Summer Daze Festival, Fairfield, Lancaster
18 June (3 pm) Storey Creative Industries Institute, Lancaster
Again, see the Swerve Trio recordings and videos pages for the actual music…
---