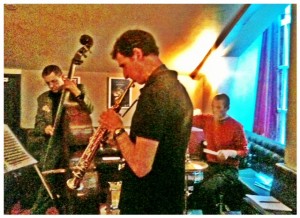 Here are some recordings of the trio from a live rehearsal at LICA in June 2011, captured on drummer Richard's macbook and a stereo mic. We hope you enjoy. Let us know.
1. Classic beautiful bossa melody, here stripped down to bare bones and then reconstructed a bit … 'Black Orpheus'. In fact, this is the first time we ever played this song together…. As radio broadcast, with a band interview, on Diversity FM (November 2011). swerve-trio-black-orpheus by gmckay
2. Swerve's long fade-in version of the wonderful Bob Marley song 'Natural mystic' (from Exodus), with hints of the melody, dub fragmentation, speeding, speeding …
swerve-trio-natural-mystic by gmckay
3. A different version of the old New Orleans standard 'St James Infirmary' from our ones on youtube (this tune must really speak to us), but still featuring the soprano sax/arco bass head and collective improv.