formed in 2016/17, hymn is a composed and improvised ensemble featuring core members Chris Dowding on trumpet/flugelhorn, loops and effects, Dave Ross on analogue effects/percussion/ mouth harp/various things, and me on double bass. Here is a short film of us playing at Platform 12, Norwich in May 2017. In 2018 hymn featured BBC Radio 3 for a live 'Introducing' gig at Norwich Arts Centre.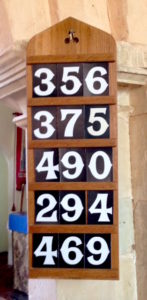 We have mostly been playing Chris's lovely spacey, empty tunes of heads—brass and bass harmonies—and then seeing where each takes us. The titles of most of our pieces started as numbers, chosen from an original set of hymn number cards as used in churches … e.g. '153' or '521'. I'm delighted to be playing with these guys, whose soundscapes are warm and inventive … We've recorded music together for 3 or 4 albums, which you can find, sample and buy here.
This is my arrangement of the 1798 Robert Burns poem and song, 'The slaves lament', part of a project on songs of protest about the transatlantic slave trade I have been working on with hymn and others.

In 2022 hymn were in the studio to record a new long piece by Chris, 'the second sky', which should be released in 2023. We were augmented on this occasion by violinist Sylvia Hallett and sound artist Oliver Payne.