'a unique and brilliant appointment'—The Jazz Mann blog, October 2014.
See here for up to date list of activities and talks.
---
[PRESS RELEASE]
GEORGE McKAY APPOINTED PROFESSOR IN RESIDENCE  AT THE EFG LONDON JAZZ FESTIVAL
Professor George McKay is the first academic ever to be appointed 'Professor in Residence' at a jazz festival.
In conjunction with Serious and the Arts & Humanities Research Council (AHRC), Professor McKay will be joining the team of the EFG London Jazz Festival on 1 November 2014.
'I'm delighted to be the first Professor in Residence at the EFG London Jazz Festival. Allow me to introduce myself: I'm George McKay, Professor of Media Studies at the University of East Anglia and I'm also currently an Arts & Humanities Research Council (AHRC) Leadership Fellow for one of its priority areas, the Connected Communities Programme. My books include Radical Gardening (2011), Shakin' All Over: Popular Music & Disability (2013) and a collection called The Pop Festival (2015). But you'll probably be most interested in Circular Breathing: The Cultural Politics of Jazz In Britain (2005), a book about the development of jazz, free improvisation, political campaigns, New Orleans-style marching bands, questions of race and gender in this music of 'liberation'. I've followed up recently with some more work on the neglected 1950s Trinidadian pianist Winnie Atwell.
One of my focuses in terms of Connected Communities is the idea of festival – how does this density and intensity of cultural activity transform its environment (whether that's tents and soundsystems in a field or trumpets in a city street), and what is the impact on the local population and audiences.  
But why should the EFG London Jazz Festival appoint a Professor in Residence right now?  There's been a real explosion of interest in what's being called the New Jazz Studies from UK academics over the past decade. In terms of British jazz, academic books by Catherine Tackley, Hilary Moore, and me, have all explored the contribution of the UK to jazz development and history. Jazz Research Journal, edited by Tackley and Tony Whyton, publishes quality research by international scholars.  A new Routledge series, Transnational Jazz Studies, is edited by Whyton and Nick Gebhardt.
And there have been notable major research projects, like Rhythm Changes: (EU-funded, led from Salford University) and What Is Black British Jazz? (AHRC; Open University). AHRC currently funds a PhD student, Alison Eales, looking at the 25-year history of Glasgow Jazz Festival, co-supervised between the festival and Glasgow University.  You can watch a great film made this year about researching jazz festivals on Youtube: Tom Perchard of Goldsmiths was awarded an AHRC Early Career Fellowship for a project entitled Jazz in France, 1934-75. At the moment my university is in the process of appointing a one-year AHRC postdoctoral research assistant working across London and other jazz festivals, looking at their impact and value. 
So, working with the EFG London Jazz Festival team, we thought it a good idea to try to bring some of this academic energy and insight around jazz to festival-goers. We've built on some work from last year, when we marked London's 21st birthday with a day of talks at the Royal Festival Hall, and curated a programme of discussions around questions of politics, power and history. For a music that talks a lot about freedom, these are key questions to debate, and we're bringing together academics, and some critics and musicians, to unpack them and to explore the roles that jazz musicians, activists and cultural workers in Britain have had in making their musical and political mark. Please, do join us.'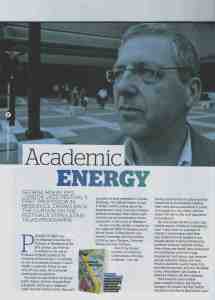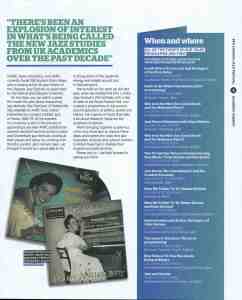 Full talks programme listings
All talks are free
Saturday 15 November 
South Africa 20 years on and the legacy of the Blue Notes: Southbank Centre / Front Room 12.45 & 3.30pm
Knife in the Water – discussion about the music of the film's charismatic composer, Krzysztof Komeda: Barbican Cinema, 3pm
Way in to the Way Out: Arun Ghosh and Zoe Rahman (Part 1): Southbank Centre / Front Room 4.30pm
Sunday 16 November
Jazz Record Requests with Alyn Shipton: Barbican FreeStage 2pm
Way in to the Way Out: Arun Ghosh and Zoe Rahman (Part 2): Southbank Centre / Front Room 4.30pm
Tuesday 18 November
The Art and the Value of Commissioning New Music – with Trish Clowes and Guy Barker: Southbank Centre / Queen Elizabeth Hall 6pm
Wednesday 19 November 
Jazz Rants: The Jazz Industry and The Creative Economy: Club Inégales 7pm
Thursday 20 November
Hear Me Talkin' To Ya – Stefano Bollani: Barbican 6.30pm
Friday 21 November
Hear Me Talkin' To Ya – Kenny Barron & Dave Holland: Southbank Centre / Queen Elizabeth Hall 6.30pm
Saturday 22 November
Improvisation and action – the legacy of John Stevens: Southbank Centre / Front Room 2pm
'the space is the place' : the art of programming: Barbican 5.30pm
Blue Note at 75 – Don Was meets Richard Havers: Southbank Centre / Level 5 Function Room 6pm
Sunday 23 November
Jazz and Gender: Southbank Centre / Front Room 12.45pm
For full details visit efglondonjazzfestival.org.uk/talks
_______________________________________________________________________________________
EFG LONDON JAZZ FESTIVAL MEDIA ENQUIRIES
Please contact Sally Reeves  +44 (0)1223 864710 | +44 (0)7790 518756 |  sallyreeves@btinternet.com
Issued by Piers Mason at Serious  +44 (0)20 7324 1880 | piers.mason@serious.org.uk
For information on all EFG London Jazz Festival shows please go to efglondonjazzfestival.org.uk
NOTES TO EDITORS
The EFG London Jazz Festival is produced by Serious, one of the UK's leading producers and curators of live jazz, international and new music. Serious produces events that range from major concerts, festivals and national and international tours through to learning and participation programmes, conferences and specially commissioned bespoke events. Alongside its core role as a live music events producer, it works in artist and rights management. Alongside this exists the registered charity, Serious Trust, which has been established to support the next generation of artists and audiences through our artist development, learning and participation and commissioning programmes
serious.org.uk
The London Jazz Festival was created in 1992 by live international music producers, Serious. The Festival emerged from the long-standing Camden Jazz Week which was created in 1970; with the active support of the London Arts Board (now Arts Council England, London). Serious – who had for some years produced the Camden Jazz Week, engineered a transition that saw the evolution of the Festival.  Taking a mix of international and British artists and a commitment to education activity, the London Jazz Festival began to spread its wings. The aims of the Festival still remain the same today; celebrating the place of jazz in a city which is at ease with its rich cultural diversity, and drawing in a multitude of venues across London who present the music, week in, week out, throughout the year.
efglondonjazzfestival.org.uk
EFG International is a global private banking group offering private banking and asset management services, headquartered in Zurich. EFG International's group of private banking businesses operates in around 30 locations worldwide, with circa 2,000 employees. EFG International's registered shares (EFGN) are listed on the SIX Swiss Exchange. It is represented in the UK by EFG Private Bank, which offers a range of wealth management services in the UK (with offices in London and the Midlands) and Channel Islands.
Practitioners of the craft of private banking: efginternational.com