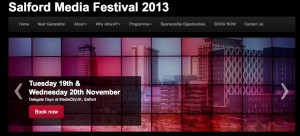 Salford Media Festival at MediaCityUK this week brings together over 500 media professionals, ranging from traditional and new media content creators, to commissioners, producers, broadcasters and policymakers. And academics. This year the festival celebrates its 20th anniversary, going back to the very first Television from the Nations and Regions conference in 1993.
I have organised a panel about Media and Community in Research Projects for Tuesday afternoon. Speakers:
Prof Ann Light (University of Northumbria)
Tamar Millen (Arts Co-ordinator, Community Media Association)
Dr Sarita Malik (Brunel University)
Dave Harte (Birmingham City University)
Gemma Thorpe (Photographer and Educator)
Dr Toby Pillatt (Researcher).

This panel introduces some of the ideas behind the AHRC's Connected Communities Programme, and has presentations—including some screen extracts—from four projects that work directly with media and media partners. Dave Harte will talk about the Creative Citizens project, one of the Connected Communities large grants in the creative sector, and in particular about his work in hyperlocal news / media. Sarita Malik will present on her project Community Filmmaking and Cultural Diversity, which is in partnership with the British Film Institute. Gemma Thorpe and Toby Pillatt will discuss their project with Cumbrian hill-farmers, and the notion of filmmaking as (creative) research. Ann Light and Tamar Millen will talk about their project, in collaboration with the Community Media Association, to conserve the various media outputs that the Connected Communities programme has funded in a dedicated archive or collection.