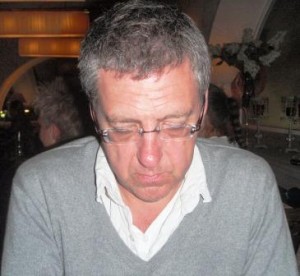 In his day job, George McKay is Professor of Media Studies at the University of East Anglia in Norwich. Prior to this, he was Professor of Cultural Studies at the University of Salford (2005-2014); previously he held a similar chair at the University of Central Lancashire (2000-2005).
His research and teaching interests are in alternative culture and media, the cultural politics of popular music—including jazz, punk—disability, festivals, and gardening. He has written or edited numerous books and collections in these fields—lots of information and links about which are available elsewhere on this site.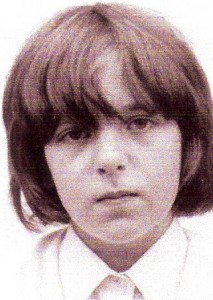 He has written for both academic and non-specialist audiences. So he has produced research monographs, aimed primarily at a university readership, and also written books for the informed, more general, reader, in particular for those interested or engaged in social activism, music-making, community and cultural action. (You can read an academic analysis of the pitfalls of writing about activist culture in Keith Halfacree's 'I could only do wrong', which discusses George's position in his early writing, and its reception by some of the radical groups involved and under discussion.)
He appears intermittently in the media as an 'expert' talking about his work, and related areas such as protest, counterculture, social movements—see Media and Contact pages for further information.
George is also a musician, semi-pro. He plays double bass, mostly jazz, but also in Norwich he's in a folk band. Read about his musical adventures and gigs here.
---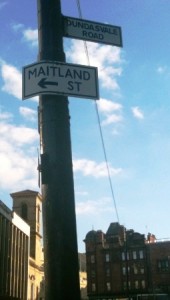 One of four children, George was born in the Cowcaddens, Glasgow, in the 1960s, in a tenement apartment above the Park Bar on Maitland Street. (Read more in this 1967 Daily record press cutting.) With his older sister he attended Milton Street and Oakbank Primary Schools. This entire part of the inner city was demolished within a few years, along with many neighbouring streets where his extended family lived, and had lived for generations, to make way for the M8 urban motorway. They were all moved to council houses and flats, mostly out in Easterhouse, though George's family were moved to one of the new council tower blocks in Woodside (Cedar Court). When he began writing about the radical environmental movement of anti-road protest in the early 1990s he slowly came to understand the power of the political unconscious.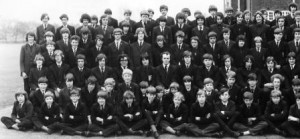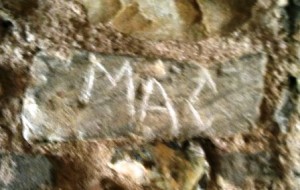 Joining the Scottish diaspora in the late 1960s, his family ended up in Norfolk, England, living first in a caravan in Great Yarmouth on the east coast, and then different houses in and around Burnham Market, north Norfolk. He went to primary schools in Yarmouth and Burnham, then to secondary schools in King's Lynn (King Edward VII grammar) and Norwich (Blyth-Jex comprehensive), where his family settled. He himself returned to Norwich in 2015, after nearly 30 years away.
He went to Hull University in 1979 or 1980 or so, which, uh, didn't really work out, but then graduated from Hull College of Higher Education in 1984 with First Class Honours, so that must have suited him better. He returned to the city of his birth for doctoral study, in the English department at the University of Glasgow, 1988-91. Throughout and beyond this student-long decade he was an anarchist, squatter, painter and decorator, unemployed, punk rocker, community musician, erstwhile jazzer. He is still some—well, probably one, at least—of these, and writes about some of the others.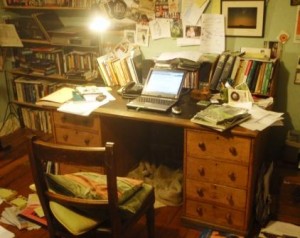 Here's a 2014 interview with George, published in the Eastern Daily Press on the occasion of his return to Norwich after decades away. Here's another, from 2011, by Ana Carolina Prado, in the Brazilian magazine Revista Superinterresante. Here's a 2009 interview in Ziniasklaida ir Politika, from Lithuania, by Dzina Donauskaite, about grassroots politics and culture. This came from a meeting of some Lithuanian New Leftists George spoke with in Vilnius that January. And here, again for you Euro-linguists, is a 2002 interview with George by Josien Pieterse in the Dutch radical magazine Kunstenaarswijzer, no. 35.
George is married, with two grown-up daughters.