Below you can see some of the videos, films, extracts from television programmes, I've appeared in recently, mostly talking about my research. In order, scrolling down:
'Prof George McKay talks about the impact of jazz festivals' (2016; 6 mins).A short self-shot piece to camera, in my study, using a flipcam. Norwich, September 9 2016.
Pop Music and the Disabled Body (2016; 60 mins). Film of inaugural professorial lecture. UEA, Norwich, March 8 2016.
Communities, Academic research, Impact (2016; 66 mins). MeCCSA 2016 keynote plenary session, feat. George McKay, Claire Wallace, Leah Bassel, Kathryn Geels. Canterbury, January 8 2016.
Carnivalising the Creative Economy: AHRC-funded Research on and with British Jazz Festivals (2014; 16 mins). Film made for the AHRC Creative Economy Showcase at King's Place, London, March 12 2014.
Shakin' All Over: the author reading from the final section of the book (2014; 11 mins).
AHRC Connected Communities Showcase, London (March 2013; 8 mins).
'Festival, industry, place, community': Live Music Exchange conference in Glamorgan, keynote lecture (2012; 62 mins).
'Horti-countercultural politics': dOCUMENTA 13 lecture (15 September 2012; 1 hour)
'What next for culture, jazz and Europe?' Extract from Rhythm Changes project discussion, Lancaster University (15 March 2012; 3 mins).
The film of my 2012 dOCUMENTA 13  lecture (image below) is here.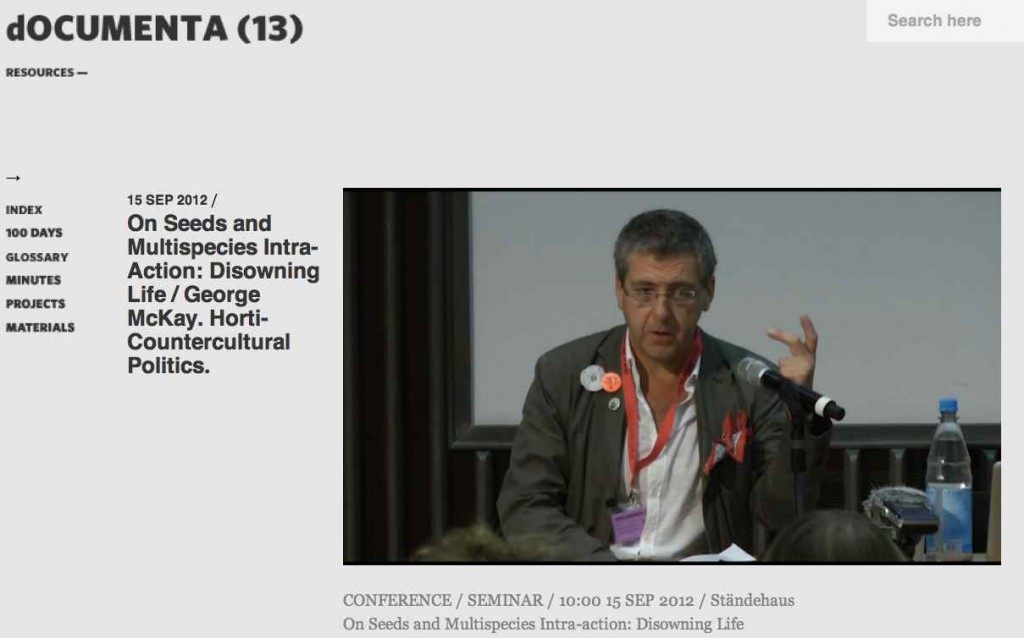 –