FREE attendance (limited places; must register in advance via Cheltenham Jazz Festival box office)
Researching (Jazz) Festivals features festival directors and researchers talking about jazz and festivals (and jazz festivals), and will see the launch of a new report for the Arts and Humanities Research Council about the impact of British music festivals at an early evening drinks reception. We have a full day programme, open to the public, festival organisers, journalists and researchers, free of charge, taking place in a dedicated space at the jazz festival site during the festival. And it's free, did we say that?
---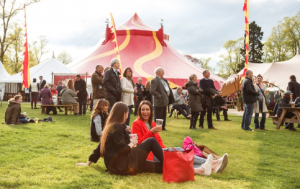 Confirmed speakers and panels
Keynote plenary: European jazz research
Francesco Martinelli, Siena Jazz Archive: European Jazz Research project
Prof Tony Whyton, Birmingham City University: Cultural Heritage and Improvised Music in European Festivals (CHIME) project
Festival directors
John Cumming OBE, Director, EFG London Jazz Festival
Steve Mead, Director, Manchester Jazz Festival
Tony Dudley-Evans, Artistic Advisor, Cheltenham Jazz Festival
Jazz research
Alison Eales, University of Glasgow: author, Critical History of the Glasgow International Jazz Festival (PhD thesis)
Dr Nick Gebhardt, Birmingham City University: co-editor, The Cultural Politics of Jazz Collectives: This Is Our Music (Routledge, 2015)
Prof Stephanie Pitts, University of Sheffield: author, 'Listening to live jazz: an individual or social act?' (Arts Marketing 2013) and 'Rules and expectations of jazz gigs' (Social Semiotics 2012)
Festivals research
Dr Chris Anderton, Southampton Solent University: Music Festivals in the UK, (Ashgate Publishing, forthcoming)
Dr Matt Brennan, University of Edinburgh: Principal Investigator, Fields of Green: Addressing Sustainability and Climate Change through Music Festival Communities project
Dr Roxy Robinson, Leeds Beckett University: author, Music Festivals and the Politics of Participation (Routledge, 2015)
For more information about the day please contact Rachel Daniel at r.daniel@uea.ac.uk
---
The Impact of Festivals is a 12-month project funded under the Arts and Humanities Research Council's Connected Communities Programme, working with research partner organisation, the EFG London Jazz Festival. The Principal Investigator is Professor George McKay, AHRC Leadership Fellow for the Connected Communities Programme, and Professor of Media Studies at the University of East Anglia. The Research Associate is Dr Emma Webster, co-founder and director of Live Music Exchange.


---
Speakers' biographies
Dr Chris Anderton is the course leader for BA (Hons) Music Promotion at Southampton Solent University, and the recently launched BA (Hons) Music Management. He teaches across the popular music scheme, and leads and teaches on units which address the recorded and live music industries, music media and marketing, festival cultures and events management, music culture, society and history, pop politics and protest, digital design and social media, and creative entrepreneurship. His forthcoming book, Music Festivals in the UK, will be published by Ashgate. He is co-executive producer of the annual SMILEfest event, which brings the music industries to Southampton Solent University amid a month of exciting industry-facing activities, live concerts and club nights organised by students on the BA (Hons) Music Promotion and BA (Hons) Popular Music Journalism courses (www.smilefest.co.uk). He is also director of Solent Music, which showcases and promotes student-produced work and manages work experience opportunities (www.solentmusic.com).
Dr Matt Brennan is the Programme Co-director for MA (Hons) Music at the Reid School of Music, University of Edinburgh. He specialises in the interdisciplinary field of popular music studies. His creative practice as a musician informs his teaching and research, which also draws from historical, sociological, business, and ethical approaches to understanding music in society. Matt's current research focuses on the music industries – and live music in particular – and the social history of the drum kit and drummers. He has served as Chair of the UK and Ireland branch of the International Association for the Study of Popular Music (IASPM). Matt is the Principal Investigator for Fields of Green: Addressing Sustainability and Climate Change through Music Festival Communities, an AHRC funded research project.
John Cumming OBE, Director, EFG London Jazz Festival. John's involvement in producing jazz goes back to his days running the theatre and music programmes at South Hill Park Arts Centre in Bracknell from 1973, where he started the Bracknell Jazz Festival. He also programmed the Camden Jazz Week from the late 70s and into the early 90s, and as it evolved into what has become today's EFG London Jazz Festival. He has been a member of a number of Arts Council and Regional Arts panels and committees, and until recently was a long-standing board member of Europe Jazz Network. He received Services to Jazz Awards at the 2005 BBC Jazz Awards, and in 2012 from the All Party Parliamentary Jazz Appreciation Group. He was made an OBE in the 2014 Queen's Birthday Honours List.
Tony Dudley-Evans is Jazz Adviser to the Jazzlines programme at Town Hall and Symphony Hall Birmingham, and Programme Adviser to the Cheltenham Jazz Festival. From 1985 he was chair of Birmingham Jazz, an organisation which promoted up to 100 concerts a year at various venues across the city. In 2012 the work of Birmingham Jazz was transferred to Jazzlines, Town Hall and Symphony Hall's dynamic programme of live jazz performances and education projects, for which Tony became Jazz Adviser. Jazzlines is now the major jazz promoter in Birmingham and a key national jazz organisation. Tony has been involved with the Cheltenham Jazz Festival since its beginnings 20 years ago, initially as Chair of the Jazz Advisory Group, then as Artistic Director and, finally, for the last three years as Programme Advisor.
Alison Eales is an AHRC-funded PhD student, who holds a Collaborative Doctoral Award between the University of Glasgow and Glasgow Jazz Festival, entitled Critical History of the Glasgow International Jazz Festival.
Dr Nick Gebhardt is Reader in Popular Music and Media at Birmingham City University. His first book, Going For Jazz: Musical Practices and American Ideology, was published by the University of Chicago Press in 2001, and he has also published articles and reviews in a wide variety of forums on the cultural history of popular music in the United States. Two forthcoming monographs further develop his work in this area: Music is our Business: popular music, vaudeville and entertainment in American Culture, 1882-1929 (University of Chicago Press) and Rock and Roll in American Culture (Edinburgh University Press). Nick is on the editorial board of the Jazz Research Journal, the International Advisory Board of the Center for Black Music Research in Chicago, and he co-edits the Transnational Studies in Jazz book series for Routledge USA. He is the co-editor, with Tony Whyton, of The Cultural Politics of Jazz Collectives: This Is Our Music (Routledge 2015).
Francesco Martinelli of the Siena Jazz Archive. Francesco is a journalist, historian, producer and promoter. He has been involved in the promotion of jazz events since the mid-1970s. In 1976 he co-founded the Centre for Research about Improvised Music (CRIM), which promoted the International Pisa Jazz Festival. From 1982 until 2009, Martinelli was involved in several major music festivals in his home town of Pisa, most recently as director of the An Insolent Noisefestival (2007-2009) which had an electronic/improvised music/jazz programme. Currently he is a consultant for the European Jazz Festival in Izmir, Turkey. Martinelli has been the curator of the Siena Jazz Archive since 2003, the main resource of its kind in Italy. He has conducted courses and lectures for several institutions including the summer schools of the Sienna Jazz Foundation and New York University in Italy. He is the co-ordinator of the Europe Jazz Network's three-year research project The Shared Roots of European Jazz.
Steve Mead is Artistic Director and co-founder (in 1996) of Manchester Jazz Festival, where he has pioneered initiatives for talent and audience development and commissioning new work and led on NPO, LA and Trust funding bids. He is also co-founder and job-share Creative Director for Jazz North, the ACE-funded jazz development agency for the north of England. From 2005-2012, he co-directed NWJazzworks, Jazz North's NW predecessor. He sits on the board of the Jazz Promotion Network and on several advisory panels for Serious, PRS for Music Foundation and, previously, Jazz Services. He is a music assessor (and previously a Music Advisor) for Arts Council England. He enjoys a wide range of music, people and really old things that still work.
Professor Stephanie Pitts is Head of the Department of Music at the University of Sheffield. Her research interests include musical participation, audience experience and music in education. In 2010 she co-founded the Sheffield Performer and Audience Research Centre (SPARC), which has studied performer and audience loyalty with regional orchestras. Her books include Coughing and Clapping (Ashgate, 2014, edited with Karen Burland), Chances and Choices: Exploring the Impact of Music Education (OUP, 2012), Music and Mind in Everyday Life (OUP, 2010, co-authored with Eric Clarke and Nicola Dibben) and Valuing Musical Participation (Ashgate, 2005). Stephanie has also published work on the audience experience of listening to live jazz. For the last two years she has been the international advisor on the 'Music Generation' project, providing research guidance on a new model for the funding and provision of performance education in Ireland.
Dr Roxy Robinson is a Senior Lecturer and festivals event consultant based at the UK Centre for Events Management, Leeds Beckett University. Her specialist areas of research at the Centre include the evolution of festival culture and creative event design. Her book, Music Festivals and the Politics of Participation, was published in 2015 by Routledge. Roxy has extensive practical experience of working in music and live events. She is the founder of the arts programme for Kendal Calling Festival, which went on to win Best Small Festival at the UK Festival Awards in 2010. Roxy also ran her own 1000-capacity metropolitan festival of live reggae, ska and bass-heavy music, Raisetheroof, at Leeds West Indian Community Centre between 2004 and 2013, an experience she describes as her 'ultimate labour of love'.
Professor Tony Whyton is Professor of Jazz Studies at Birmingham City University. His critically acclaimed books Jazz Icons: Heroes, Myths and the Jazz Tradition (Cambridge University Press, 2010) and Beyond A Love Supreme: John Coltrane and the Legacy of an Album (Oxford University Press, 2013) have sought to develop cross-disciplinary methods of musical enquiry. In 2014, he founded the new Routledge series 'Transnational Studies in Jazz' alongside BCU colleague Dr Nicholas Gebhardt. Gebhardt and Whyton also edited The Cultural Politics of Jazz Collectives: This Is Our Music (Routledge) in 2015, a collection that explores the ways in which musician-led collectives offer a powerful model for rethinking jazz practices in the post-war period. From 2010-2013, Whyton was Project Leader for the ground-breaking HERA-funded Rhythm Changes: Jazz Cultures and European Identities project. He is currently the Project Leader for the transnational research project Cultural Heritage and Improvised Music in European Festivals.