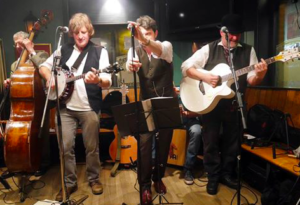 I play bass around Norwich in three bands currently, mostly original music. There's a flurry of gigs coming up in early summer. Been a long time since I've been this busy musically, what with moving cities and jobs etc. Be lovely to see you at one if you are around here.
---
Friday 30 June, Jurnet's Bar, Norwich, a short set by The Punch House Band. Doing a short set around 9.30, the numbers we recorded in the studio a week or two back. East Anglian folk music.
Sunday 2 July, Wymondham Music Festival, Summer Pizzazz concert, Spooner's Row church near Wymondham. hymn + Arthur. hymn are trumpet/loops, percussion/electronics, double bass trio, compositions to melodic improvisations.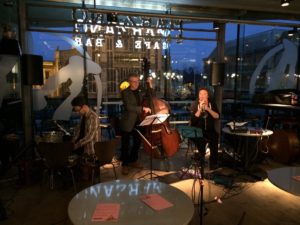 Monday 3 July, same line-up as Sunday, Bicycle Shop, Norwich.
Wednesday 5 July, Joey Herzfeld Trio, First Wednesday Club, Platform 12, Norwich.Joey's songs often have some kind of Jewish flavour, though piano tonight (rather than accordion) might change that.
Friday 7 July, is this one on? A trio playing standards, before screening of the film Whiplash, somewhere in Aylsham …
Friday 14 July, Wymondham Music Festival, The Green Dragon, Joey Herzfeld Trio. Perhaps back to the 'classic' line up of accordion/voice,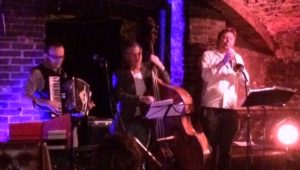 trumpet, bass, after the piano of the July 5 gig.