A one-day conference
Date: Friday 22 May 2015, 9.30am to 5pm
Venue: Thomas Paine Study Centre, University of East Anglia
Event website here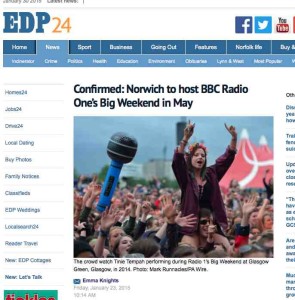 With origins going back to the Radio 1 Roadshows that toured nationally each summer in the 1970s, the annual BBC Radio 1's Big Weekend is a free pop festival held in a different city in the UK each year. This year it is in Norwich, 23-24 May. According to the BBC, it is 'the UK's biggest free ticketed festival', a live music event also broadcast on Radio 1 and 1Extra, and BBC3.
Also happening in May (8-24) is the annual Norfolk and Norwich Festival, a major multi-arts annual event for the East of England, presenting theatre, music, art, literature and more. The festival is among the oldest arts festivals in the UK, dating back originally to 1772.
To mark and to critically interrogate the correspondence of these occasions, an academic and industry symposium is being held at the UEA. It will feature academic speakers from media studies and popular music studies, from industry, from the media, and from festival organisations.
Speakers and features already confirmed (others to be added):
STOP PRESS: speakers to include Q&A with Bob Shennan, Director of BBC Music
Prof Tim Wall Professor of Radio and Popular Music Studies, Birmingham City University – keynote address: 'Radio One on the Road: creating that festival spirit for live radio broadcasts'
William Galinsky Artistic Director, Norfolk and Norwich Festival
John Cumming Director, EFG London Jazz Festival
Ben Robinson, Director, Kendal Calling
Dr Chris Anderton Southampton Solent University, author Music Festivals in the UK (2016)
Dr Roxy Robinson, Leeds Beckett University, author Festival Culture and the Politics of Participation (2016)
Prof George McKay AHRC Leadership Fellow, UEA, editor The Pop Festival: History, Music, Media, Culture (2015)
East Anglian Fairs Archive 1972-1986 rural alternative festivals scene.
Areas to be discussed include:
popular music and festival
BBC as promoter and commissioner of (live) music
the role of festival in the construction of regional cultural identity
cultural festival as event; making a festival happen
multiplatform: media / music / digital crossovers
festival history and memory.
An exhibition of archive photographs and materials from Fairs Archive will be on show through the day, hopefully in the archive's yurt.
The full programme for the day will be available shortly.
Attendance is free (including lunch and refreshments), but prior registration is essential. To register go to Eventbrite.
For further information contact Rachel Daniel, AHRC Connected Communities administrator, r.daniel@uea.ac.uk.