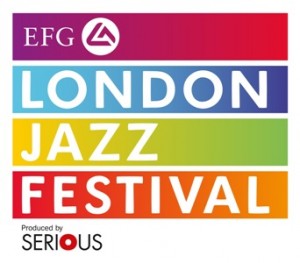 Text below from the LJF website. Academic speakers through the day include Prof Walter van de Leur, Prof Andrew Dubber, Dr Nick Gebhardt. I'm chairing the panel on jazz festivals, with John Cumming (Serious/London Jazz Festival), Steve Mead (Manchester Jazz Festival). Gonna be a good day!
THINKING WITH JAZZ
Come and tune into a series of panel sessions that investigate the structure, resonance and importance of jazz in today's cultural environment. Co-hosted with Tony Whyton and George McKay, leading lights in the team that produced the international research project, Rhythm Changes – Jazz Cultures and European Identities, this programme forms the centrepiece of a new collaboration between the Festival and the Arts and Humanities Research Council's Connected Communities programme.
2pm – THE VALUE AND IMPACT OF JAZZ FESTIVALS
3pm – THE JAZZ INDUSTRY – LOOKING FORWARD
4pm – LOOKING BACK TODAY
5pm – WHY RESEARCH MATTERS – THE CONTEXT OF JAZZ IN 2013
Venue: Level 4 Blue Bar. We look forward to seeing you at our Birthday Party!