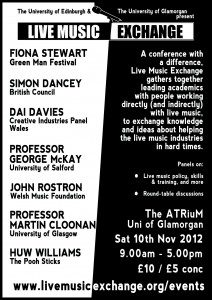 Saturday 10th November 2012
ATRiuM, University of Glamorgan, Cardiff
A conference with a difference, the Live Music Exchange gathers together leading academics with people working directly (and indirectly) with live music, to exchange ideas about how to encourage and assist a vibrant and sustainable live music ecology.
Panels on: Live music policy, skills & training and more, plus round-table discussions.
Keynote Speaker: Professor George McKay (Professor of Cultural Studies, University of Salford and AHRC Leadership Fellow, Connected Communities Programme)
Panellists include: Fiona Stewart (Green Man Festival), Simon Dancey (British Council), Huw Williams (founder Welsh Music Foundations), Arts Council Wales, John Rostron (SWN Festival), and many more.
Programme and booking information available here.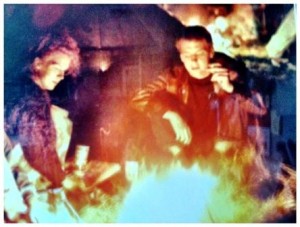 My keynote lecture title is 'Festival, place, industry, community'. I
think
it will include some work on the early days of British popular music festivals, in the 1950s, and will also draw on the research I've been working on with contributors to the book project I am editing, 
Carnivalising Pop: Festival, Music, Media
. (I would like to touch on the Get it Loud in Libraries development of the past 3-4 years too, especially as Lancaster Library has been at the forefront of this live music innovation, but I'm not sure I've got time to have those conversations with organisers and work up some thoughts based on those.)