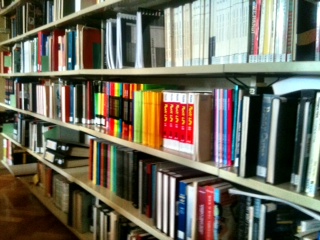 A group of scholars, research students and musicians get together 3-4 times each semester to discuss a chapter or article from jazz studies, from musicology, media, history. (Occasionally this has been a work-in-progress from a seminar member.) One of us identifies the piece to read, and then introduces it at the seminar. The rest of us have read it in advance too and then we rip it apart. No no, we engage in constructive dialogism with the nominator and the chapter / article, teasing out its complexities and articulating its usefulness. Usually this is followed by food and drink somewhere, during which time the discussion can continue or meander interestingly elsewhere. We started the seminar as a theory reading group before the Rhythm Changes European jazz project but continue it currently under the project's aegis. Mostly but not always we have held the seminars at University of Salford, though this semester we are widening that out. Here are the dates for the first half of 2013. All welcome! And do you have an important piece to suggest for us to read for one of the later seminars?
Wed. 13 Feb, 4-6pm, MediaCityUK, University of Salford. Reading: George Lewis, "Improvised Music after 1950: Afrological and Eurological Perspectives," Black Music Research Journal, 16:1 (1996), 91-122
Wed. 6 March, 4-6pm, MediaCityUK, University of Salford
Wed. 22 May, 4-6pm, LICA, Lancaster University
Wed. 3 July, 4.15-6pm, Birmingham City University.