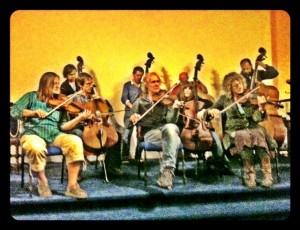 OK, this probably isn't terribly impressive for pro musicians, but I'm really, really pleased that I've got a number of gigs in the diary. Last year, after a long search, I found my new bass, and I determined to re-launch myself on the local scene (which had in fairness been doing rather well without me), and I also had a new year's resolution to, well, simply put, be in a band. And now I have some gigs! It's working. And they are gigs with three different ensembles. Come along and have a listen.
September 21, 8 pm, Lancaster Jazz Festival. Deep Cabaret Vox. £5. A member of the string section in an improvised piece by Steve Lewis, for voices (5-6) and strings (9, including 3 or 4 double bassists—fab, I've never played with that many before), Baptist Church, Lancaster. You can hear and I think download the resulting 25 minute 'improvatorio' below (on soundcloud), very nicely recorded live and unedited.
October 11, 6 pm, One Planet Festival, The Dukes Theatre, Lancaster. Swerve Trio. This is the trio I'm in, of soprano sax, drums, bass. Free. Later that evening at the same venue I'm talking about Radical Gardening.  
October 15, 7.15-8.15 pm. Jah Wobble evening, Lancaster Music Festival, The Dukes Theatre. Adverse Camber–two double basses, for a bassist. Nice touch. Free.