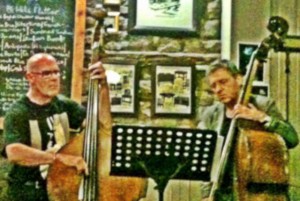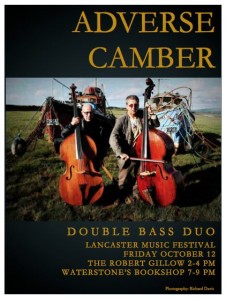 OUR GIGS
November 10,

9 pm, The Robert Gillow

 

October 27,

9 pm, The Robert Gillow

October 3, 6 pm, The Dukes Theatre, Lancaster
September 17, 9 pm, The Robert Gillow

August 18,

9 pm, The Robert Gillow

May 13 2014,

UCLan, launch of the Institute for Black Atlantic Studies

December, Green Xmas Fair, Lancaster
November 13, 9 pm, The Robert Gillow, Lancaster
September 18, 9 pm, The Robert Gillow, Lancaster
July 5, 9pm, The Robert Gillow
29 June, 6-8 pm, The Robert Gillow, Lancaster
11 May, 6-8.30 pm, The Robert Gillow, Lancaster
20 March 2013, 9 pm, The Robert Gillow, Lancaster
24 November, 1.30 pm, Green Xmas Fair, Friends' Meeting House, Lancaster
22 November, 7.30 pm, Harrington Lecture Theatre, UCLan, playing at reception after Prof Alan Rice's inaugural lecture
27 October, 9 pm, supporting Swerve Trio, The Golden Lion, Lancaster
19 October, 6.30-7.30 pm, Dukes Theatre bar, Lancaster
12 October, 2-4 pm, The Robert Gillow, Lancaster, in the Lancaster Music Festival
12 October, 8-9 pm, Waterstone's bookshop, Lancaster, in the Lancaster Music Festival
23 September, afternoon, The Gregson, part of Lancaster Jazz Festival's all-dayer, feat. eight bands
17 September, 7 pm, Wired In / Totally Wired event, Dukes Theatre, part of Lancaster Jazz Festival. Includes a film by Richard Davis featuring the duo, and landscape images.
12 February 2012, 3-6 pm, Jazzology I: the first in a new series of jazz music and film events: 'a Sunday afternoon of deep bass grooves, sonic explorations and jazz standards, featuring Swerve Trio, Adverse Camber (double bass duo) plus a screening of The Cry of Jazz (1959).' £3 (kids are free). The Gregson, Lancaster.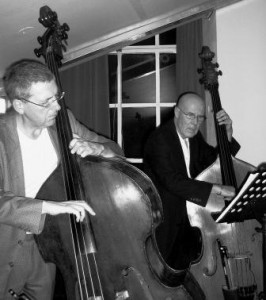 19 November 2011, 12 noon, Green Fair, Quakers' Meeting House, Lancaster

15 October, Dukes Theatre, Lancaster,  before Jah Wobble.

17 July 12-4 pm, Summer Daze Festival, Fairfield, Lancaster.
28 June, 6-7 pm, Dukes Theatre, Lancaster, Chill Out Tuesday.
ABOUT ADVERSE CAMBER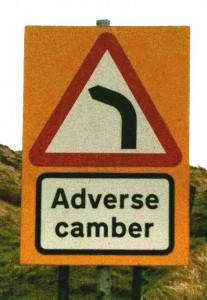 Adverse Camber is a double bass duo with Ken Johnston. The music we play is a mix of jazz standards, blues, originals by me, with a variety of sounds—pizzicato, arco, percussive, vibrato. There's a conscious effort for the music to be accessible to an audience, partly because we recognise that a double bass duo is a relatively unusual musical combo to start with.
Things I like about Adverse Camber include but are not limited to  
the pure and slightly austere aesthetic of that deep sound (though admittedly it hasn't led so far to too many pub gigs—we're grateful to the adventurous landlord of The Robert Gillow, Lancaster, who does book us);
the insistence that choice of instrumentation makes on really listening to the other player;
the unusual freedom for the bassist soloing because there is another bassist playing the changes at the same time (very rare: usually the bassist when soloing has to keep the chords or melody going while trying to do an interesting solo too);
 the impactful visual pleasure of the double bass doubled—especially two such interesting, battered, historic instruments. We think it's for this reason that ace Lancaster photographer Richard Davis photographed and filmed us in 2012. Some pics here and here;
the challenge it's given me both in terms of playing the melodies and playing arco. It's good fun;
the fact that there's nowhere to hide, which is how it should always be;
the space for exploring the different kinds of sounds the bass can produce, when extended—percussive, sul ponte, harmonics;
the impact playing with another bassist has had when I'm not playing with the other bassist;
regular rehearsals (mostly Tuesday evenings, followed by a couple of pints) which makes it both a gigging band and a kind of a bass workshop for us both.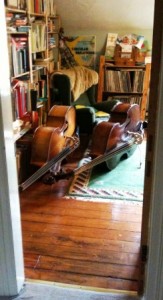 Gigs have included a book launch at Lancaster Maritime Museum, a bookshop party, jazz upstairs at the Gregson community arts venue in Lancaster, at the Dukes Theatre, at the jazz festival, with film and photography, at a green fair, the Gillow pub, in Waterstone's bookshop… It may be a bit of a minority taste but, hey, minorities are important. And people like it—we're getting more gigs. Book us!