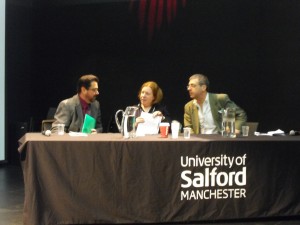 You know you must be doing something right when the jazz media starts reviewing academic events. Excellent! Here's to more and deeper dialogue and collaboration between all critics, enthusiasts, and historians of the music. As reviewer Ian Patterson asks in his piece, just published here in the leading online magazine All About Jazz:
The study of jazz in academic institutions may be a relatively modern trend, but the presence of over a hundred academics from South Africa to Russia and from America to Portugal at the Rhythm Changes: Rethinking Jazz Cultures conference, at Media City UK, Salford, underlined that it's an undeniably global phenomenon. It's also a sign of the continuing evolution and maturation of historical, socio-political, anthropological and musicological perspectives on music that is more than a century long in the tooth. There may be some who feel that jazz and academia make for odd companions, mutually exclusive fields, but if academic scrutiny is good enough for poetry, literature, graphic art, cinema, theater and other forms of music, then why not jazz?
Quite. Why not. Knowledge exchange, in process.