Well by the time of her election in 1979 punk was dead anyway. Except where it wasn't. Crass and the entire post-punk anarchopunk movement is a good place to look. Here, from a framed copy on my study wall (there's another version in the record folder on a shelf) is one of Crass artist Gee Vaucher's most famous images, in which the Queen, Pope John Paul, the Statue of Liberty and, yes, Mrs Thatcher, play in a punk band.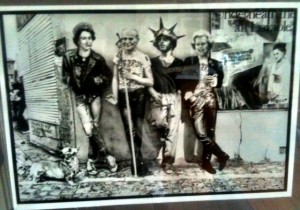 Of course, the picture is a détournment, of a famous publicity shot of the Sex Pistols, from a couple of yards earlier. Perhaps this one, by Barry Plummer (in which, famously, Sid Vicious uses a kid's windmill to hide a spot on his face).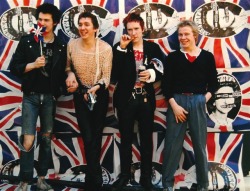 And, hey, since we seem to be in punk critical nostalgia mode, what about this one by Syd Shelton, I'd not seen it for a while, until I started looking for the Pistols one 20 minutes back. It turns up periodically, though I suspect not because I'm in it?! It's from Rock Against Racism's 1979 Militant Entertainment tour (so post-Pistols, and just when Crass were getting going), in north Norfolk, down the road from where I'd seen the Pistols play, and round the time I first saw Crass in Norwich. That's me front left, looking at the band.