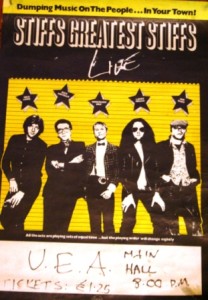 I have written a blog for the wonderful UEA Gig History project, which celebrates the University of East Anglia's role in the live music scene around Norwich since the 1960s. Mine is on the October 1977 gig in the LCR of the now-legendary Stiffs Greatest Stiffs package tour feat. Ian Dury, Elvis Costello, Wreckless Eric, Nick Lowe etc, all on the same bill, for £1.25. I was 16 years old when I went to that gig. 40 years ago last week. That's the original poster you can see, which I still have.
The UEA Gig History people really want to go with each blog a photo of the author at the time of the gig. This got me thinking about how very few photographs there are of me from that time, i.e. as a punk in the late 1970s. It was the core of my cultural and political life then, yet there seems no visual evidence it at all, which is remarkable also as punk was such a spectacular culture.
Even photos slightly later, e.g. of me as an anarchist student, post-punk hitch-hiker, festival- or free festival-goer, squatter, part of 'Thatcher's underbelly', are few and far between.
STOP PRESS! At dinner with my old friend from Burnham boyhood last night, Mike Skulski. Mike always had a camera with him and we ended up looking at his old photos of us at fairs and festivals, and bands. See bottom, large photo, for one of me I'd never seen before.
---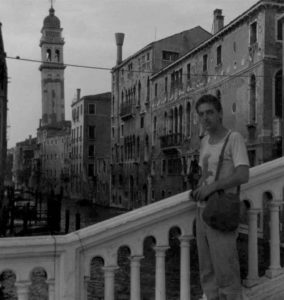 Venice, c. 1982, during one of my student summers hitching around Europe. This always involved also a stop in Barcelona, hanging with the old guys from the CNT. I am wearing a home-made Poison Girls t-shirt, stencilled with red gloss as I remember, that dried uncomfortably rigid. I always liked the trousers: second-hand, thin cotton, a bit baggy, dyed them green.
---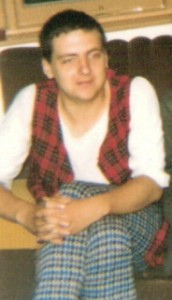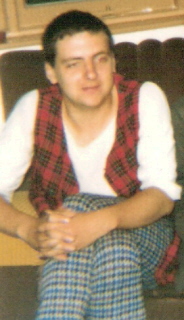 This one is about 1983. I had these old elasticated trousers like grannies wore, tight legged, and some kind of long half-tartan waistcoat thing. I remember thinking it was far enough after the years of tartan bondage trousers—too obvious for me, that—that I could rock this combo. An old white-ish grandad shirt. Can't see them but pretty sure I would have worn this with my red steel-toe capped boots bought in an agricultural store in Beverley, Yorkshire. I think this was taken in Wolverhampton.
---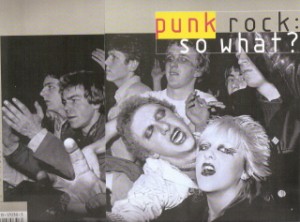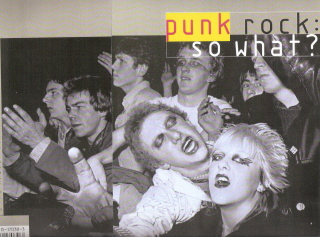 Well, probably the most famous punk photo I am in, one of Syd Shelton's brilliant series of the Rock Against Racism tour that stopped off at West Runton Pavilion in 1979, here used on the cover of Roger Sabin's 1999 collection Punk Rock: So What? (which, I always thought nicely, I have an essay in). In this I am the face furthest left, looking at the band. I remember I had a little yellow tank top someone had delicately knitted or me, with a slogan knitted on the chest—radical crafting!—and a grey-blue glittery top taken from a ladies' twin-set outfit, with a couple of punk badges as a splash. Don't recall anything about the trousers or footwear.
---
P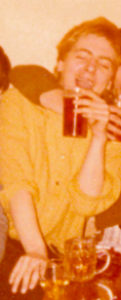 retty sure this was taken in the Hoste Arms, Burnham Market, c. 1978. Was a rather wild pub under landlord John Carney back in the day, not the genteel destination boutique venue of nowadays. Rare as I have peroxided hair. Goes quite well with my dyed yellow cotton shirt, I think. Wasn't a great hair dyer, but experimented occasionally. Doesn't look much but you had to be a bit brave (or foolhardy) if you hitched around Norfolk with hair like that in those days, as I did. As a Burnham boy (we lived and I went to primary school there) I was always going back after we'd moved to Norwich in 1975, to see old friends, some of whom I think I am having a beer or two with here.
---
STOP PRESS! So, thanks to Mike Skulski and his personal photography archive, here is one I didn't know about. I'm guessing this is around 1982-85 or so, possibly in the flat above the newsagent's on All Saints Green? There are few photos of me playing bass guitar (lots of double bass), but this is before I had a double bass I think, playing a Hofner semi-acoustic fretted bass with nylon flat wound strings I used to borrow sometimes. Always liked that guitar. Ripped Levi 501s and checked shirt, but a decade before grunge! Looks like I still have my left ear pierced then, home-done in Saudi Arabia with a sewing needle when I was 14. A couple of thin chrome bracelets on my right wrist. Can't make out or remember what the t-shirt is at all. Thank you, Mike.