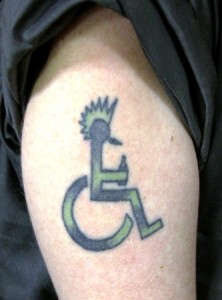 I'm delighted to announce that my new book is due for publication in the Fall 2013 round of books from University of Michigan Press. It's in the Corporealities: Discourses of Disability series, which (I think) is the leading disability/culture/theory English language book series. We've just agreed the description for the catalogue, and here it is. Don't know about you, but I really like the sound of this book. Can't wait. Did I say it contains c. 30 images?
A groundbreaking study of the intersection of popular music and disability

Given the explosion in recent years of scholarship exploring the ways in which disability is manifested and performed in numerous cultural spaces, it's surprising that until now there has never been a single monograph study covering the important intersection of popular music and disability. George McKay's Shakin' All Over is a cross-disciplinary examination of the ways in which popular music performers have addressed disability: in their songs, in their live performances, and in various media presentations. By looking closely into the work of artists such as Johnnie Ray, Johnny Rotten, Neil Young, Ian Dury, Teddy Pendergrass, Curtis Mayfield, and Joni Mitchell, McKay investigates such questions as how popular music works to obscure and accommodate the presence of people with disabilities in its cultural practice and how popular musicians have articulated the experiences of disability (or sought to pass), or have used their cultural arena for disability advocacy purposes. McKay's examination includes a focus on the uncontrollable pop bodies of early jazz, 1950s rock and roll, and 1970s punk rock.

George McKay is Professor of Cultural Studies at the University of Salford, UK, where he is an Arts & Humanities Research Council Leadership Fellow for the Connected Communities programme (2012-2015).