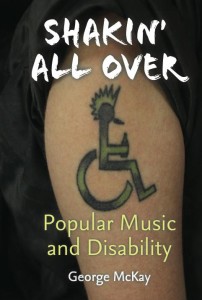 … There is another falsettist in popular music whose later work makes us think again about the place of the high voice in disability culture. The African-American soul singer Curtis Mayfield (1942-1999) had major success in the 1960s and 1970s both with the vocal group the Impressions and as a solo artist. Mayfield was a singer, songwriter, guitarist, producer, notably successful black independent music industry businessman, and a social activist. His songs were characterised by gospel sounds and dance beats, soul harmonies and catchy melodies, his own deceptively light funky guitar-playing, and his fragile-sounding falsetto. In 1990, a workplace accident—he was performing onstage during a concert in New York—resulted in a severe spinal cord injury that left him in a quadriplegic state, paralysed from the neck down. Asked in an interview in 1994 if he could still sing, Mayfield replied: 'Not in the manner as you once knew me. I'm strongest lying down like this. I don't have a diaphragm anymore. So when I sit up I lose my voice. I have no strength, no volume, no falsetto range, and I tire very fast'. Yet Mayfield returned in 1996 with a new album of songs, New World Order, which heavily featured his characteristic falsetto delivery. How was this achieved? In large part, via technological manipulation of his recorded voice in the studio.
For Mayfield the vocalist, the challenge was two-fold: to be able to sing once more at an acceptable level of quality over the duration of an entire song, and to be able to sing his falsetto. The first was achieved by bringing the studio equipment to him, in his bedroom at home, and arranging his body so that it was most physically capable of producing vocal lines for capture by the equipment. In one account, 'he was suspended by harness to give gravitational power to his voice, just to find breath to complete a musical phrase or two'. Another account elaborates on this: he 'developed a technique that enabled him to record a few lines at a time, which could be edited in the studio later. He discovered a way of getting gravity to help his lungs do the work in the studio and it was this way that Curtis evolved the system of singing, lying down at a slant (sometimes flat) on the studio floor'. Line by line songs were composed and vocals painstakingly recorded, which various guest producers and musicians worked up elsewhere.
As for the falsetto, the most intriguing point is that it continued at all, since he was in fact now physically incapable of reaching that range which had made him famous. He could no longer move on up. Post-accident, his voice tracks were recorded at the lower pitches and slower speeds which he could now achieve, and then handed to an engineer. As his biographer Peter Burns explains, '[h]e recorded his voice at a slower and lower level than in the past and the results were sped up for the falsetto sections'. In this way, Mayfield's voice was manipulated to retain the pre-accident sound of sensitivity and sincerity. Many of the reviews of New World Order were full of wonderment at the disabled overcoming—though for Ray Pence, the album is about 'Mayfield's resistance to portrayal as a victim'.
But I do wonder whether such a positivistic social model reading as Pence's what can be overlooked is consideration of, as Mayfield sings on 'Here but I'm gone', 'what my mind erased'—the set of deficits which is hinted at in several of the absence- or negative-oriented lyrics Mayfield sings. It is almost impossible to listen to this album on some level without a heuristic impulse to bring in the knowledge of the material condition—the physical arrangement, the health context—of its production. Although there is no overt reference in lyric, music, or album artwork and text to his disability, in sung lyrics like 'How did I get so far gone? / Where do I belong? /… I still feel as if I'm here but I'm gone', or 'Sometimes I'm up and sometimes I'm down / It's like one way in and no way out', or even the album's moving opening line 'Darkness no longer', an autopathographic narrative is being both tentatively and compellingly presented to the listener.