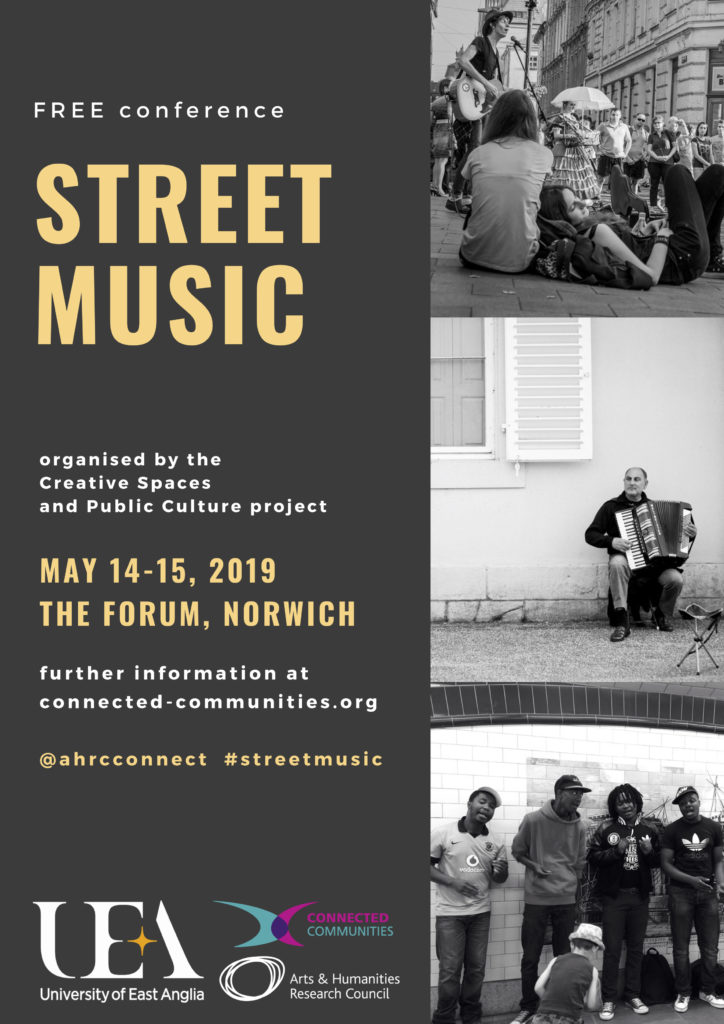 The conference I am organising with my current postdoc Dr Lizzie Bennett is really taking shape. We have a great programme of around 40 speakers, from academic as well as industry, outdoor arts, festivals, busking and performing backgrounds. And we have a musician-in-residence, Pete Moser. You can read more about Pete's one-man-band work here. The two-day conference is free to attend, but you need to book a ticket (there are very few left). It is funded by the Arts & Humanities Research Council's Connected Communities programme, from the UEA. Other speakers include the following.
Dr David Atkinson, Honorary Research Fellow at the Elphinstone Institute Aberdeen, author of The Anglo-Scottish Ballad and its Imaginary Contexts (2014), and co-editor of Street Literature of the Long Nineteenth Century: Producers, Sellers, Consumers (2017)
Chester Bingley, Director, Keep Streets Live
Nick Broad, CEO and founder, Busk.co
Mark Denbigh, Head of Production & Programme, Norfolk & Norwich Festival
Alex Gibson, Music and Creative Arts Regional Specialist (Bishop's Stortford), Salvation Army
Prof Trevor Herbert, Emeritus Professor in Music at the Open University, author of Music and the British Military in the Long Nineteenth Century (2013), and editor of The British Brass Band: a Musical and Social History (2000)
Kate Jones, Programme Director, Busk in London
Stefano Montes, Researcher in Culture and Society at the University of Palermo, convener of People and Cultures of the World (2019)
Marcus Patteson, Executive Director of Norca and Sistema, Co-founder of Norwich Samba
Mykaell Riley, Senior Lecturer at Westminster School of Arts, Programme Director of the Black Music Research Unit and Principal Investigator for Bass Culture Research
Veronica Stephens, Executive Director, Seachange Arts
Dr Lucy Wright, Research Fellow at University of Leeds in School of Performance and Cultural Industries, artistic-researcher.co.uk
Gina Arnold, Adjunct Professor, University of San Francisco
Andrew Green, School of Culture & Creative Arts, University of Glasgow
Samuel Horlor, Music Department, Durham University
Jaime Rollins, author of Lullabies and Battle Cries: Music, Identity and Emotion among Republican Parading Bands in Northern Ireland.
Kelvin Mason, Campaign Choirs Initiative and Campaign Choirs Writing Collective, who have recently published Singing for Our Lives: stories from the street choirs
Lotte Reimer, Campaign Choirs Initiative and Natural Voice Network