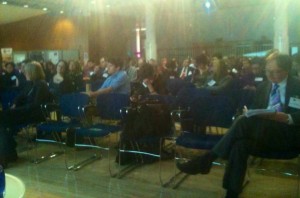 As part of the Connected Communities Programme showcase in London this week, there was a community gardening event, the key contribution of the Community Gardening, Creativity and Everyday Culture project. Yes in snowy March, outdoors, with a bonfire and a barbecue, and (fortunately) a (heated) marquee. It was after the main events of the day, which itself involved a large number of the projects funded by the programme talking or showing films or performing about their work, panels and posters and discussions about the future of universities and communities, how we work more closely together, how we learn from and energise each other, how we create and understand culture. It was a terrific day, really, that captured some of the wonderfully imaginative and inspiring work happening across the programme as a whole. We had artists, community workers, professors, senior folk from funding bodies, even the Minister for Universities and Science in attendance. (David Willetts: 'Radical Gardening? Ha! Marvellous idea!')
Half way through the early evening post-showcase wine reception in central London, small groups began to peel away to make their way to Spitalfields City Farm in the east end. For, ahem, what was billed as An Evening with George McKay. (No, that was not my idea.) It was pitch dark and bitterly cold when I arrived there, but my heart was immediately lifted by coloured lights in a tree, and the sparks and flames of the bonfire with some people sitting around, bending close. Nearer I could see the barbecue, offering 'biodynamic burgers' from one of the project partner's farm in Sussex. In the marquee there was a folk trio playing fiddle and acoustic guitars, a fabulous set of steaming pots filled with curry, dahl, rice—the women cooks said I must come back for seconds—and popadoms, chai, someone's farm-made cider. We sat at wooden tables eating and talking. The tent filled up slowly, and then it was time for the discussion.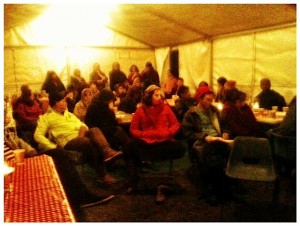 Orla introduced me, and I talked for 25 minutes or so, about the ideas in my 2011 book Radical Gardening. There was intent listening, punctuated by chuckles and bursts of laughter. I heard someone lean over to her companion and say 'Ooh, interesting, I didn't know that', so thought I was doing something right. Then what followed was an hour or so of really engaged discussion, comments and conversation between people there, to each other, as well as some questions directed specifically at me about what I'd said.
Is the allotment movement 'radical' or do the individual plots really function to maintain a slightly private form of public gardening? What's the place of nostalgia in the appeal of gardening? How does guerrilla gardening fit in, and if the site is destroyed or dug up has it been a waste of time? Is it the garden that makes things critical—the land space itself—or the practice of gardening, and especially the social side of it, that we come together to make and grow in a communal space? Is there something rewarding in life, even spiritual, about the annual thrill of seeing those first seedlings appear from the soil, life and renewal and hope? Aren't we really talking here about some middle class people having their propertied enthusiasm and just calling it 'political'? But in the east end there aren't enough gardens and spaces for growing, and that's the vital thing about the city farm, and its community garden. What about the lovely landscape design of the Olympic site, but that took away our allotments to make it? People have forgotten how to forage—as kids we used to pick hawthorn leaves from a hedge and put them in our cheese sandwiches, that tasted good. And someone told a brief history of Spitalfields City Farm itself, founded 33 years ago, originally squatted and then agreed and formalised on a long lease.
I didn't know that. In Radical Gardening I wrote of Meanwhile Gardens from 45 years ago, in west London, originally squatted and subsequently formalised on a long lease. (Though not without its struggles.) I did that because there is a book account of the establishment of Meanwhile Gardens,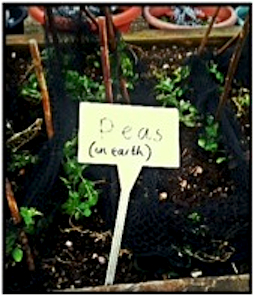 written by the people who got it going. I didn't know Spitalfields City Farm started as a squat—I would certainly have included it in my book had I. Because that is radical gardening. I immediately wondered if there exists a written history of Spitalfields City Farm, which is carefully-researched, well told from a range of voices and collaborators, and including archive photos someone must have somewhere. That I want to read. If it doesn't exist, perhaps we could co-produce it as an output from the Community Gardening, Creativity and Everyday Culture project? What do you think?