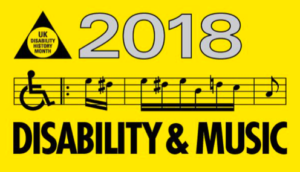 The theme of the 2018 UK Disability History Month (19 November-22 December) is Music. I am delighted to have been invited to speak at the national launch, in Parliament (Portcullis House) on Monday 19 November. My topic is jazz and disability.
There is a useful and free downloadable resource about music and disability produced by UKDHM, here. This draws quite extensively on my research on the subject over the past decade. Also, below, for further reference, is the bibliography of my forthcoming chapter, 'Jazz and disability.'
[From the end of my short talk] At its best, we can think of jazz as a generous, inclusive form which has wanted and been able to accommodate the differently embodied or minded, because jazz was capable of flexibility and sought novelty, and because jazz was a music forged in the experience of oppression, resistance and liberation. In its concern with the individual voice of expression, its fetish of the desire for the musically unique in tone or approach, jazz was open and welcoming to those who could, as Laurie Stras has put it, 'sing a song of difference' (2009).

This embrace of its inner crip was there in the fundamentals of the music—its freak noises and effects, its syncopated rhythms that are alla zoppa, its out-of-control dancing body, its acceptance of alternate techniques or voices. And—this is Disability History Month, after all—the embrace of its inner crip is also there in jazz music's history and innovation, from the very start, in the United States (Buddy Bolden) as well as in Europe (Django Reinhardt).
---
Davis, Miles. 1989. Miles: The Autobiography. With Quincy Troupe. London: Picador, 1990.
Gioa, Ted. 2011. The History of Jazz. 2ndedition. Oxford: Oxford University Press.
Givan, Benjamin. 2010. The Music of Django Reinhardt. Ann Arbor: University of Michigan Press.
Hogan, Eileen. 2010. '"Earthy, sensual, devilish": sex, 'race' and jazz in post-independence Ireland.' Jazz Research Journal 4(1): 57-79.
Johnson, Russell L. 2011. '"Disease is unrhythmical": jazz, health, and disability in 1920s America.' Health and History 13(2): 13-42.
Kirk, Rahsaan Roland. 1975. 'Freaks for the festival.' On The Case of the 3 Sided Dream in Audio Color. Atlantic Records. 12" LP.
Kirk, Roland. 1968. 'The inflated tear'. On The Inflated Tear. Atlantic Records.
Kun, Josh. 2005. Audiotopia: Music, Race, and America. Los Angeles: University of California Press.
Lerner, Neil, and Joseph N. Straus. 2006. 'Introduction: theorizing disability in music'. In Neil Lerner and Joseph N. Straus, eds. Sounding Off: Theorizing Disability in Music. London: Routledge, 1-10.
Lubet, Alex. 2011. Music, Disability, and Society. Philadelphia: Temple University Press.
Lubet, Alex. 2013. 'Oscar Peterson's piano prostheses: strategies of performance and publicity in the post-stroke phase of his career.' Jazz Research Journal 7(2): 151-182.
Marquis, Donald M. 2005. In Search of Buddy Bolden: First Man of Jazz. Rev. edn. First published 1978. Baton Rouge: Louisiana State University Press.
McKay, George. 2013. Shakin' All Over: Popular Music and Disability. Ann Arbor: University of Michigan Press.
Pearl, Philip L. 2009. 'Neurological problems of jazz legends.' Journal of Child Neurology 24(8): 1037-1042.
Rowden, Terry. 2009. The Souls of Blind Folk: African American Musicians and the Cultures of Blindness. Ann Arbor: University of Michigan Press.
Schweik, Susan M. 2009. The Ugly Laws: Disability in Public. New York: New York University Press.
Shipton, Alyn. 2002. A New History of Jazz. Rev. edition. First published 2001. London: Continuum.
Stras, Laurie. 2007. 'White face, black voice: race, gender, and region in the music of the Boswell Sisters.' Journal of the Society for American Music 1(2): 207-255.
Stras, Laurie. 2008. '"Who told you that lie?" Picturing Connie Boswell.' In Susan Shifrin, ed. Re-Framing Representations of Women: Figuring, Fashioning, Portraiting, and Telling in the 'Picturing' Project. Aldershot: Ashgate, 251-267.
Stras, Laurie. 2009. 'Sing a song of difference: Connie Boswell and a discourse of disability in jazz.' Popular Music 28(3): 297-322.
Straus, Joseph N. 2011. Extraordinary Measures: Disability in Music. Oxford: Oxford University Press.
Whyton, Tony. 2010. Jazz Icons: Heroes, Myths, and the Jazz Tradition. Cambridge: Cambridge University Press.