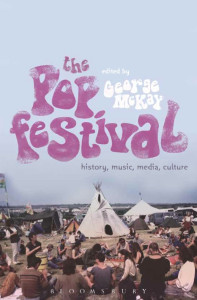 Reviews continue to appear for The Pop Festival (published summer 2015). Extracts below. Where available you can click on the publication title to access the full review (the Pop Matters one, for instance, is mildly apoplectic. Perhaps it should be renamed Pop Doesn't Matter).
At the bottom of the page also are some impressive endorsements from round the world and the disciplines…
---
Popular Music History
The rise to prominence of live music internationally is now being widely reflected within popular music studies, as shown by the publication of the … books under review. It is also indicative of the principal emphasis of this 'rediscovery' of live music that two of these edited volumes are focused on festivals. In their different ways, George McKay and Andy Bennett were pioneers in the study of such events. Previously, McKay published a study of Glastonbury as site for festivals (McKay 2000) while Bennett edited a volume of essays on the 1969 Woodstock festival, an event whose character and ethos set the template for gen- erations of music festivals to come (Bennett 2004).
These editors' current books cast their net much wider. McKay's 14 authors range over six decades from the 1950s to recent times, generically from jazz to soul to trance and techno and geographically from North America to Europe to Australia…. [T]he tone of many articles [in both books] is almost wholly celebratory, with little acknowledgment of the darker side of festivals. The notable exception is Sean Nye and Ronald Hitzler's chapter in The Pop Festival on the disastrous events in 2010 at the Love Parade, a German techno festival where 'overcrowding at its main entrance resulted in a panic and stam- pede, which caused the deaths of twenty-one people and the injuring of hundreds more'. (Dave Laing [RIP Dave, we miss you], 1 May 2016; vol 11(2): 175-178)
---
This is a book for history buffs, cultural academics, musicians and those diehard music fans who set out every summer to attend festivals like Coachella or Lollapalooza. As a history nerd myself, it was fascinating from a social perspective to see how festivals have changed over the last 60 years within the social climate of wherever they were being held. Assembled from 14 essays that run a time span from the 1950s until now and cover ground in the U.K. as well as the U.S., The Pop Festival is the most comprehensive collection explain the underlying nature of music festivals.
From humble beginnings of community folk festivals to political movements and to the evolution of the EDM festivals of our time, there is something that will intrigue everyone in here. The essays are each fairly short with their own distinct tone and voice, so each story and era feels self-contained. Yet, they weave together a vivid story of where we've been, with eyes on where we are now. Fun fact: Did you know that the term "raver" was being used all the way back in the '50s? [This book contains] many more insights into how we got where we are today. (5 November, Rachel Jensen)
---
For any student of the social, political, and cultural impact of the festivals … the thinking and analysis recorded here is almost certainly a five-star treasure trove of ideas, joining-up disparate elements of society and contextualising the festivals within that background. In that sense it's clearly an important study. (Ian Abrahams)
---
… the truly compelling work by a handful of the collection's more polished essayists…. Sean Nye and Ronald Hitzler's "The Love Parade" offers a fascinating glimpse into the history of an often misunderstood subculture. By affording it the proper contextualization, these types of gatherings take on a greater meaning for their participants.
Similarly, Alice O'Grady's "Alternative playworlds" explores the rationale beyond what, from an outside perspective, might be viewed as childish or absurdist behavior. Positioning it as a form of contemporary escapism, O'Grady helps shed light on the motivating factors that lead participants to travel all over the world to take part in Bacchanalian music festivals….
[F]rom a historical standpoint,… Gina Arnold's "'As real as real can get'" and Nicholas Gebhardt's "Let there be rock!" seek to get at the why of the pop festival, exploring the social and cultural forces that drove their initial appearance and the historical significance inherent in each. While the Gebhardt essay explores a broader range of festivals to make his point, Arnold tackles the standalone Wattstax festival, exploring the racial underpinnings that shaped the festival, its location (urban versus the rural Woodstock), its performers and the overall feel of this decidedly black music festival as opposed to its predominantly white counterparts. (September 14, John Paul)
---
… Bloomsbury publishes some of the best academic writing about music that one will read. In The Pop Festival, the music festival is put under the scholarly microscope in 14 separate essays, all punctiliously annotated and referenced. Each essay is written by a scholar in his or her field and takes on a particular aspect of the "festival," in all its different iterations. George McKay, who also functions as the book's editor, pens a document about the music festival's roots in 1950s Britain. Gina Arnold discusses 1972's Wattstax festival, critically examining the Los Angeles R+B event in terms of demographic and both comparing and contrasting Wattstax with Woodstock. Alice O'Grady takes on psytrance, while Ann Dvinge discusses the urban environment, specifically as it relates to the Detroit Jazz Festival. Chris Anderton examines corporate sponsorship, and Rebekka Kill tackles how visual art is incorporated into the music festival ecology….
[T]he book provides valuable insight into the counter-culture beast that has been and is the music festival. Reading might not be as free and easy as a day at Woodstock, but through careful reading one will find reward. (June 29, Frank Valish)
---
Ranging widely in time and space, from early 1950s British cultural festivals through Love Parade and Burning Man, this original and compelling book examines the music festival from a rich variety of perspectives. The Pop Festival is particularly good at tracing the political, racial and musical contexts which have made festivals such important moments in cultural life around the world. Woodstock is here, and analyzed with great skill, but so are a wide range of other festivals whose importance has been forgotten. This is nothing less than an alternate history of popular music since the Second World War. — Professor William Straw, Department of Art History & Communication Studies, McGill University, Canada
---
George McKay has brought together a lively, challenging, accessible and eclectic collection of essays spanning diverse aspects of the pop music festival: its history, politics, and cultural meaning; its muddy, sweaty, dancing bodies; its mythology and racial tensions; the euphoric (and sometimes tragic) crush of the crowd. I warmly recommend The Pop Festival to anyone interested in the politics of festivals across music and media studies, cultural history and event management. — Chris Gibson, Professor of Human Geography, University of Wollongong, Australia, and co-author of Music Festivals and Regional Development in Australia
---
The festival has long been an essential facet of the popular music experience. In this wonderful book, McKay assembles a series of masterful essays that takes us on a thought-provoking journey through the history, politics and aesthetic qualities of the pop festival. Andy Bennett, Professor of Cultural Sociology, School of Humanities, Griffith University, Australia