… a bright girl with multi-coloured hair extensions called Kata Kolbert tried to break through [in the 1980s pop scene in Britain]. Her debut single 'Live your life' on her own Nevermore label had cool song-writing and soft vocals that invited comparison with Nico and Kate Bush. The only drawback was that, restricted to a wheelchair with severe arthritis, Kolbert was unable to promote it in the acceptable way. Her wheelchair was not sexy. While trucking her demo tape around record companies, she was met with both uncomfortable comments and blank rejection. 'I couldn't be a singer in a wheelchair in my own terms', she said. 'They wanted me to be a brave struggling cripple in a nice long dress.' — Lucy O'Brien, She-Bop II
… So, some other versions of the real in disability pop, it seems, we do not desire—and in particular we do not want female pop singers in wheelchairs. Never heard of Kata Kolbert, or 'Live your life'? Precisely. In her relative obscurity and pop failure, despite what O'Brien sees as her high promise, Kata Kolbert stands, sits as a symbol of the enduring masculinist imperative of the pop industry and media, the gatekeepers of which help a few disabled men up the steps to the golden stage, but try to keep the women off, or in the wings or the shadows, or (like 1930s singer Connie Boswell, who remains the one extraordinary exception) with their physical disability veiled. The press release for that 1987 single, 'Live your life', situates Kolbert's story within the pop industry, in an awkward mixture of accusatory and plaintive:
Kata Kolbert has her first single out now. This is it…. She is wheelchair bound with arthritis, and was turned down by all the major record companies because of this, DESPITE her opera trained voice. She formed Nevermore to put out her own records….
Kata cannot play live more than once a month. It's taken her eight years to get this far. She does not have the money for a concerted publicity campaign. All she asks is for a chance to be heard.
Is that too much to ask?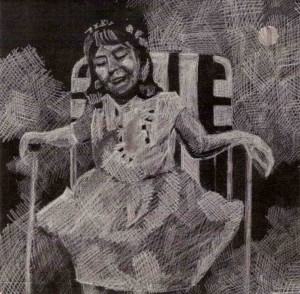 If the feminist English novelist Virginia Woolf—still writing on one side of the Atlantic when Boswell was beginning to sing solo on the other—could declare in the early twentieth century that she could not tell 'the truth about my own experiences as a body' (followed by a universalising addendum: 'I doubt that any woman has solved it yet'), it is the case in popular music even in the early twenty-first century that we still can only tell (some of) the truth about men's disabled bodies. How surprised should we be at such exclusions and silences? Even (even?) academics cannot hide their distaste for or discomfort with certain corporeal categories, as the cripping of, for instance, theoretical lacunae lays bare. Disability scholars have argued that 'recent body theory has never confronted the disabled body…. [D]isability is as much a nightmare for the discourse of theory as for ableist society', argues Tobin Siebers. Susan Wendell agrees: 'In most postmodern cultural theorizing about the body, there is no recognition of—and, as far as I can see, no room for recognizing—the hard physical realities that are faced by people with disabilities'. Kolbert may not have made it on to the leading British charts television programme of her times, Top of the Pops—though, as the earlier experience of singer Robert Wyatt illustrates [read the book!], that could be a mixed achievement for a wheelchair user. Let alone a girl—but surely she is due more than the odd melancholy paragraph in popular music studies such as O'Brien's or mine, a shade in a skirt in a chair to confirm the gender and disability limits of the industry….
[Note: I think Kata Kolbert is today writer, poet, performer Penny Pepper, who also blogs at Penny Pepper: writer, activist, disabled, passionate. I've written to her for confirmation, but will remove this if I'm wrong! I haven't been able to locate a version of 'Live your life' online yet.]