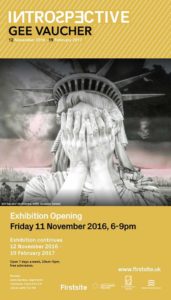 Gee Vaucher: Introspective – Panel Discussion
1 December 2016, 7pm
Firstsite Gallery, Colchester
Come join us for a panel discussion of the work of anarchist artist Gee Vaucher (starting perhaps with shall / can we even call her an 'anarchist artist'?).
Organised by Stevphen Shukaitis, co-curator of the exhibition, with support from the University of Essex, Centre for Work, Organization, and Society.
Participants:
Rebecca Binns, London College of Communication
George McKay, University of East Anglia
Brandon Taylor, Winchester School of Art
Stevphen Shukaitis, University of Essex.
Gee will be present and, in her words, 'stirring the soup'. Further information, including tickets, here. You can read what I wrote about her work for the exhibition in my essay in the catalogue, available here.
This is one of a number of events connected with the exhibition:
11 November: Opening party
19-20 November Letterpress print workshops with the Print Project
24 November: Screening of Vaucher's film Angel & discussion
25 November: "I Am Yet I Am Not" performance by Penny Rimbaud
26 November Book making workshop with Pandora Vaughan
1 December: Panel discussion of Vaucher's work with George McKay, Rebecca Binns, Brandon Taylor, and Stevphen Shukaitis
2 December: A Room of Worlds, Eve Libertine & Charles Webber opera performance
3-4 December Letterpress workshops with the Print Project
13 January, Penny Rimbaud reads the poetry of Wilfred Owen
14-15 January, Monoprint workshops with Eve Libertine & Pandora Vaughan
28-29 January no.w.here Film Workshop for Young Women.