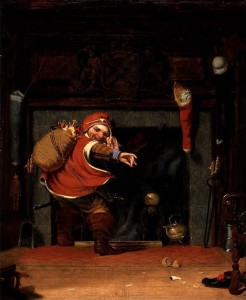 An article in the current Smithsonian American Art Gallery magazine draws on some of my work on festival, specifically my 2008 essay on Christmas and consumption. The Smithsonian article, by Saba Naseem, is called 'The evolving face of Santa, as seen in the Smithsonian's vast collections'.  It has a great set of Santa images accompanying it, including this rather sinister one, right, an 1837 painting by Robert Walter Weir. Here is an extract:
… As early as the mid-19th century, corporate America saw the need to harness a Father Christmas-style character for seasonal marketing. Department stores like Macy's and food and drink companies publicized the Santa image in their advertising. "A standardized visual amalgamation—white, white beard, portly, jolly, wearing an identifiable fur or fur-trimmed uniform—developed through the century," writes George McKay…. "It was this image that was most famously exploited by the Coca-Cola Company from the early 1930s on, in the corporate company colors of red and white, as part of its campaign to increase winter sales of its soft drink. It is widely recognized that it is from this long-running campaign that Santa's place and most familiar representation has been concretized in the contemporary Christmas imaginary." … A search of the archives collections across a number of Smithsonian museums reveals a Santa for every generation. In a myriad of art, photographs, posters, postcards, greeting cards, song sheets, wrapping paper and even telegrams from the Western Union Telegraph Company, the image of Santa echos the stylistic designs of every era from the highly romanticized Victorian Santas to the sleek Bauhaus-influences of a mid-century modern Santa.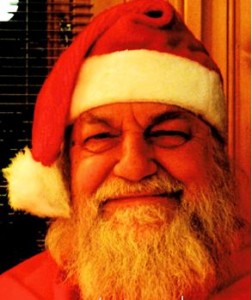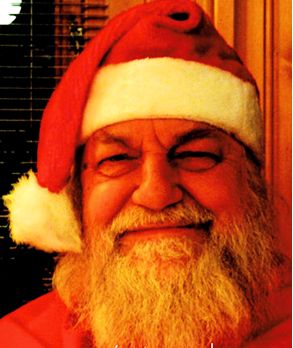 The chapter Naseem draws on, 'Consumption, "coca-colonisation,"' cultural resistance—and Santa Claus',  appears in Sheila Whiteley's 2008 collection Christmas, Ideology and Popular Culture (Edinburgh University Press). You can read my piece in full here, open access (i.e. free), including what I have to say about 'that most obvious of deconstructions: Santa/Satan'. For the record, here again is my favourite recent Santa image, the English singer and Marxist Robert Wyatt in improbably festive garb, from three or four years ago. 'Is it worth it? / A new winter coat and shoes for the wife /… The boy said "Dad they're going to take us to task, but I'll be back by Christmas."' Was he, do you think?