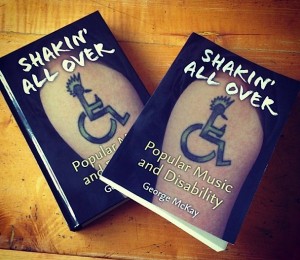 Astonishing. Two number 1s, who'd have thought it. So the Top Ten disability songs is actually 11. Has it ever happened before, in the history of the pop charts?  And at the very moment the book is actually published.
A pair of what we might call polio songs, surely a compelling challenge to what Marc Shell, in his terrific 2005 book Polio and its Aftermath, has termed the 'the paralysis of culture' that surrounds polio survivors, making instead a culture from paralysis. Each draws on childhood memories of disability experience, one very movingly, the other very angrily. Young and Dury have many, many songs of disability between them.
'Helpless'
Polio fucked up my body a little bit. The left-hand side got a little screwed. Feels different from the right. If I close my eyes, my left side, I really don't know where it is—but over the years I've discovered that almost one hundred per cent for sure it's gonna be very close to my right side … probably to the left. Neil Young
In Canada in 1951, really quite extraordinarily given their musical futures, both Joni Mitchell (aged nine years) and Neil Young (aged five) contracted poliomyelitis; Mitchell has said that 'Neil and I have a lot in common: Canadian; Scorpios; polio in the same epidemic, struck the same parts of our body'.
In Christopher J. Rutty's view, the 1970 Young song 'Helpless' contains his childhood memories of the experience of the disease. The song focuses on the moment, location and aftermath—both immediate and long-term—of the boy's contraction of the virus—and also of the girl's, when we bear in mind a famous performance of 'Helpless' such as Young's in The Last Waltz film of the star-studded 1976 concert organised by The Band. Here, Joni Mitchell features on backing vocals, the two Canadian polios on the same stage singing the same song about a shared past. (Mitchell's intriguing reference of disability culture is occasionally seen elsewhere, in, for example, the framed self-portrait she used as the cover for her 1994 album Turbulent Indigo, where she presents herself as Vincent van Gogh, complete with bandaged ear.)
We are in a very specific geographical and temporal place: 'a town in north Ontario', remembering the singer's own childhood: 'All my changes were there' (Young 1970). The song title is also a kind of single word chorus, and is repeated in groups of four by backing singers, including the fade-out at the song's end. Such a repeated state of helplessness captures the family moment, which is one of disease, uncertainty, dread, as well as perhaps some social shame, since, as Young sings, 'The chains are locked and tied across the door'. Standard procedure by medical authorities to polio outbreaks in Canada and elsewhere meant that Young would be isolated in hospital, while his family were subject to quarantine at home, his father remembering: 'I was the only one … allowed out…, and only to buy groceries. The white quarantine sign greeted me every time I returned to the house … the words on the sign "Poliomyelitis. Infantile Paralysis"'.
'Hey, hey, take me away'
Being in that place [Chailey residential school for disabled children] is one of the reasons I talk the way I talk. Before that I talked not quite BBC. A third of the kids there were funny in the head as well as being disabled.… The situation was that from within you got very strong, but also you got coarsened.… There was a lot of behaviour that just don't happen in the outside world. Later you pretend to be arty about it but when I was there, I was just there, it was real. Thinkin' about it now, I realise it was fuckin' heavy. It was like a hospital in one way, like a school in another way, and like a prison in another way. Ian Dury
Dury got it two years earlier, in a 1949 epidemic in England, aged seven. It is highly likely that his most compelling and harrowing song about the institutionalisation of disabled people, 'Hey, hey, take me away', from the 1980 album ironically entitled Laughter, draws on his experiences of life at Chailey. I think the song title and repeated phrase in Dury's song—a one-line chorus, a plea—is a jokey reference to the 1966 summer novelty hit by Napoleon XIV about mental breakdown and the lunatic asylum, 'They're coming to take me away, ha-haaa!', which is also echoed in each song's lyrics's dactylic rhythm. But Dury's 'take me away' is an act of liberation rather than confinement: he wants to be taken away from the place rather than being taken to it.
Hey, hey, take me away / I hate waking up in this place / There's nutters in here who whistle and cheer / When they're watching a one-legged race / And a one-legged prefect gets me in bed / Makes me play with his dick / One-legged horn and he's shouting the odds / Driving me bloody well sick.
On the record Dury's opening vocal scream and Davey Payne's saxophone harmonics are reprised from earlier songs like 'Dance of the screamers' for the supply of emotional intensity and disturbance, but there is so much more in this one short (under two-and-a-half minutes) song—as well as a clear distantiation from other disabled people ('I hate the untouchable caste'). Lyrically, co-writer Mickey Gallagher remembers it from the recording sessions as 'the song that shocked everybody'. It covers masturbation, adventures of escape, sexual abuse, physical violence by carers, physical violence between children, the fear of and disgust at the disabled body or mind, self-loathing, suicide, the yearning to be 'normal'.… Dury's delivery moves between spoken word, angry and rushed shouting and swearing, and a pathetic sobbing that is sometimes a whisper. Gallagher heard in this crying Dury's familiar 'best acting voice, which he probably developed as a boy in those institutions, to get people on his side'.

The editing of the voice tracks is extraordinary and sometimes brutal, and contributes powerfully to the song's confusion, discomfort and fright: one can hear the joins, sense the edifice, feel the effort needed to hold it together. Some of Dury's words are spliced out half-way through, odd sentences make no sense, he runs out of time towards the end as the pre-recorded music runs away from him, he misses a cue and speeds his words both to catch up and to fit the remaining bars. In its reflexivity the recording process is laid bare, of course, but more importantly the listener is disrupted and disturbed. Such 'formal deviation' within the finished product of a pop song is noteworthy, not least as, as Joseph Straus puts it,  '[f]ormal deviations, which are dealt with harshly in real life when manifested as bodily deformities, may be prized within art;… in musical forms, the "deformations" are often the most highly valued'.