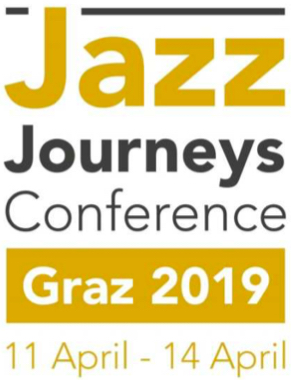 This week, at the University of Music and Performing Arts, Graz (KUG), we hold the 6th of our international jazz conferences, on the overarching theme of Jazz Journeys. There are around 180 delegates coming, which is we feel a big deal. I'm a member of the Rhythm Changes organising team, and have been since we first had EU project funding for our European jazz research. So looking forward to being back in Graz. You can download the conference programme here.
Jazz has typically been the music of journeys and mobility. Its history is inseparable from global patterns of migration and changing demographics, as well as new forms of media communication and cultural production. The music speaks as much to dreams of escape as it does to the desire to put down roots; it continually seeks new pathways to meaning, even as it reinforces old boundaries. Jazz Journeys seeks to critically explore how ideas of mobility, movement, travel, exchange, voyaging, border-crossing and odyssey have shaped – and continue to shape – debates about the music's past and future. We welcome papers addressing the conference theme from multiple perspectives, including cultural studies, musicology, cultural theory, music analysis, jazz history, media studies, and practice-based research. Within the general theme of Jazz Journeys, we have identified several sub-themes. 
Journeys: mobility and travel
This theme addresses hemispheric or global cultural movements in jazz, from the legacies of transatlantic slavery to the emergence of jazz communities throughout the world. We invite papers that engage with the different kinds of journeys that musicians undertake, from stylistic development to their involvement in the processes of migration and mobility, cross-cultural exchange, colonialism, and empire(s).
Journeys: journees
This theme explores jazz as a companion to everyday life in private and public spaces, in the light of changing modes of interaction with the music. Are new technologies and platforms such as Spotify and Facebook changing the way we deal with jazz? How does jazz feature as a soundtrack to our ordinary existence? How do such regular interactions (or the avoidance of such interactions) reveal ideas about the meaning and value of jazz?

Journeys: journal/diary: history, narrative, (auto)biography
This theme explores the ways in which the experience of music is captured and the story of jazz told, from dominant narratives to (auto)biographies, popular tales to hidden histories. We welcome papers that interrogate dominant forms of causal and linear narration and engage with the ways in which the stories of jazz are written, adapted and changed through time. The theme seeks to engage with the underlying values that shape understandings of jazz and influenced what is celebrated and what ignored.
Journeys: journals/research
Fifty years ago, the founding of Jazzforschung / Jazz Research and Beiträge zur Jazzforschung / Studies in Jazz Research in Graz positioned jazz studies as an important area of musicology and related disciplines. We invite papers that explore the gaps, limitations and tensions in our understanding of jazz research, as well as new directions in the field.
Journeys: journalism, media, technologies
This theme investigates the role of writing, mediatisation and technological change in the production, dissemination, and experience of jazz. We invite papers focusing on the ways in which ideas, sounds and images about the music circulate globally between artists, critics, audiences, and producers.
Journeys: time(s) and temporalities
This theme explores concepts of time and temporality in jazz, from the uses of multiple tempos and time signatures to theories and practices of repetition and revision. We invite papers that respond to the different times, temporalities, tempos, moments, instances, junctures, speeds, passages, and movements in and out of time that characterise jazz history and its practices.
The seduction of alliteration
This theme addresses the many journeys in language, sound, gesture, and image that shape our understanding of jazz, including spontaneous writing, creative writing from the Harlem Renaissance, and Beat literature. We welcome papers that experiment with how to get from A to B, that sound out new ways of speaking of and thinking about jazz, and envision new practices and processes of writing about, and performing with, the music.