[from press release, July 2012] University of Salford academic, George McKay, has been appointed to a three-year leadership fellowship by the Arts and Humanities Research Council (AHRC) for a programme focusing on community cultures and understanding.

George, Professor of Cultural Studies, and Director of the University's Communication, Cultural and Media Studies Research Centre at MediaCityUK, will be joint academic lead of the Connected Communities research programme with Professor Keri Facer of the University of Bristol, in close collaboration with AHRC staff.
The programme aims to encourage the potential for communities to increase participation, prosperity, sustainability and health through improving connections between research, stakeholders and communities.
Professor McKay's studies broadly encompass cultural politics, ranging from popular music to the cultures of social movements, and from festivals to gardening. His acclaimed 2011 book Radical Gardening: Politics, Idealism & Rebellion in the Garden was a 'Book of the Year' in the Independent on Sunday and his AHRC-funded book Shakin' All Over: Popular Music and Disability is due for publication in 2013.
He is currently involved in a European jazz research programme, funded by Humanities in the European Research Area, and an AHRC project on community gardening, as well as being lead organiser of the 2012 International Association for the Study of Popular Music conference at MediaCityUK in September.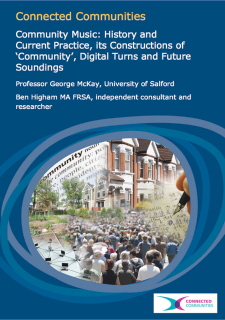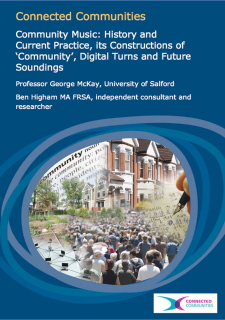 Professor McKay said: "To work centrally with the Connected Communities programme and its ever-widening constituency of scholars, community partners and creatives is a really wonderful opportunity. I've long been committed to working with community artists and social activists, writing with them as well as about them, and am hugely enthusiastic about learning more, and helping shape great new opportunities in research, knowledge exchange and engagement."
As well as working with the AHRC on the future shape of the programme, Professor McKay's fellowship includes a substantial element of personal research time, in which he will be working on projects around community music, disability arts and festival culture.
Vice-Chancellor, Professor Martin Hall, said: "Connected Communities is a great programme that will have wide-reaching impact. I can think of no one better than George to play a leading role in this."


Professor Mark Llewellyn, AHRC's Director of Research, welcomed the appointment of the leadership fellows, saying: "These are key posts for the intellectual and strategic development of the Connected Communities programme. Professor McKay and Professor Facer bring a wealth of knowledge, expertise and experience to these roles and we look forward to working closely with them on the further development of the programme."
Connected Communities is a cross-research council programme, led by AHRC in close partnership with the Economic and Social Research Council, Engineering and Physical Sciences Research Council, Medical Research Council and Natural Environment Research Council.
Further details of the Connected Communities programme are available at http://www.ahrc.ac.uk/FundingOpportunities/Pages/connectedcommunities.aspx.