We are coming up to the time of the year for music festivals—and various journalists have also been in contact for pieces they are writing about the festival season. Here are some thoughts on the pop festival, which you can quote from if you wish (please include link to georgemckay.org and/or mention the new book if you use my words, and let me know). Pertinent particularly this year as I have a new book of international essays (and a photo-essay) out this summer on the very subject. This builds on previous writing of mine on festivals, such as these books:
Senseless Acts of Beauty (1996),
and DiY Culture (ed., 1998): free festivals and the East Anglian fairs, rave/free party movement
Glastonbury (2000): history and politics of pop/rock festivals in UK, and Glastonbury / south-west
Circular Breathing (2005): jazz festivals and the 1950s origins of festival culture in UK.
---
George McKay is Professor of Media Studies at the University of East Anglia, and an Arts & Humanities Research Council Leadership Fellow. He has written extensively on pop festival culture, and is editor of a new collection The Pop Festival: History, Music, Media, Culture (Bloomsbury, summer 2015). George's first festival was Reading Festival as a teenager in 1977 (headliners: Alex Harvey, Thin Lizzy). More recently he has been Professor in Residence at both Kendal Calling (2011) and EFG London Jazz Festival (2014).
---
Carnival
"Festivals are deeply rooted in the carnival tradition, which is to invert everyday expectations of normal behaviour. Historically, carnivals would have a Lord of Misrule who oversaw the revelries and subversion of the ordinary rules of life. Look back at the earliest popular music festivals in Britain, at Beaulieu Jazz Festival in the New Forest in the 1950s. Here young people who were even called 'ravers' back then ended up in a kind of festival riot—a battle between modern and trad jazz fans! Or think of the massive Stonehenge Free Festivals of the 1980s, that could degenerate into trouble between motorbike gangs and hippies or punks, or just between the festival-goers in general and local police and landowners."
History
"And it's important to recognise the history of the pop festival: it's been around for well over half a century. That means there are several generations of people that want to go. Increasingly you might see three generations at a pop festival: granddad who went to the original Isle of Wight in '68, his daughter who first got taken to Glastonbury by her parents in 1984 ('or was it '85?'), and now they are at Latitude together with junior, chilling out and reminiscing. Remember that venerable hippie slogan from the 1970s: 'You're never too old for a happy childhood!'"
Money
"The average total spend at a big festival nowadays is between £400 and £500 per person. For most people that's an expensive weekend. Personally I do think it's a bit boring when the same headliners appear at different festivals just because the artist management has a deal with national festival organisers, yes that's pretty dull, and does signal a commercial rather than utopian imperative."
Politics—utopia?
"Arguably many social activities and cultural expressions are less overtly ideological than, say, even 30 years ago, so why would festivals be any different? OK we don't have a truly radical and edgy free festival movement any longer (where a festival would be thrown for anyone who turned up on fields squatted for the occasion, and there was a related new traveller culture). But I don't entirely buy the post-ideology arguments, that today's festival is a diminished or weakened version of the counterculture. Festivals in the green countryside are often engaged directly with issues of land, the environment, an implicit or explicit green politics. And in the very 24-7 immersive surroundsound-scape that a festival offers, people are transformed for a few days. That transformative experience fades after the event—does it disappear, though? I prefer to think of the festival as still containing the possibility of offering a glimpse of utopia even among the noise, dirt, commerce, sometimes mud, and crowds. Am I naive, nostalgic? Maybe that itself is part of festival belief!"
Last night festival saved my life
"A festival is usually over a weekend, so Monday is, as always in fact, the end of the weekend with a bump, and people are back to work or study. Festival is no different to that. Except festival is completely different at the same time: it's been a mass experience, people have travelled to the countryside, a temporary community had been both built and dismantled, music has been consumed inescapably in the immersive 24-7 event. Does festival end with a soak in the bath and clean sheets at home, do we wash it away and sleep it off? My first festival was almost 40 years ago, and here I am today writing books about festival, dropping my kids off at them, looking for one I quite fancy some bands at, attending to talk at the festival about festivals. So in a way I'm a kind of instance of the long-lasting effect of the festival—I often think of the hippy slogan 'You're never to old for a happy childhood!'"
"Carnival or festival has always had that aspect to it which is about turning the everyday upside down or inside out. So the key figure is the Lord of Misrule, whose job is to create mischief and challenge social norm and the established hierarchy. In my new collection of essays The Pop Festival: History, Music, Media, Culture I've written about it as 'a sort of special space-time, a compressed or heightened experience of multiple performance and playfulness'. The limitation of the festival may be it's temporality, or temporariness: it's a temporary inversion or challenge, it's a temporary autonomous zone (Bey's TAZ). At its starkest, not only is nothing actually changed by the festival, but the temporary inversion is kind of like a diversion: the carnivalesque in this reading is a pressure valve for letting off steam so we can all get on with our normal lives for a while again afterwards."
The rise and fall of festival?
"I must say I've been surprised by the sustained success of pop festivals over the past 2 or 3 decades. If we go to them to see bands, to experience live music, well there are more comfortable, safer, cleaner venues, that are easier to get to and get home from, in most cities, so why would you trek to the countryside, loaded down with tent, sleeping bag, and so on? So the festival must also offer us some other pleasure or dream. But the success, and let's face it, expansion of the pop festival during these decades is also a model that's encouraged by the music industry: with music sales dropping it's the live music circuit, with its merchandising points of sales, that offers a profitable line, and festivals are the compressed collective version of the live circuit."
"It's true that each year now, in both the UK and Europe, there are some festivals in crisis, and even some cancelled because of poor sales–this leads people to talk about the bursting of the bubble, even the death of the pop festival. More realistically, the market has been saturated: in the UK in particular there is a fairly short festival season, which we call, with national optimism, 'summer'. Summer means possibly 12-15 weekends available to squeeze in every single festival in the country—in fact, the unreliability of the weather does mean Brits go abroad to mainland Europe for festivals now—Spain, Croatia, for instance. But its death is surely exaggerated."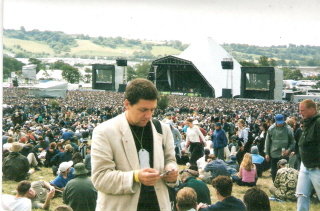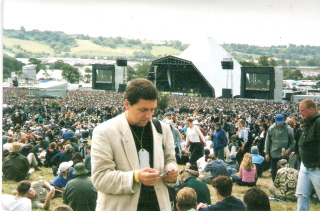 Glastonbury
"As I say, the death of the pop festival is exaggerated: I always look at Glastonbury, and how its tickets sell out in a mad few hours each year, and this happens months before any headliner acts are confirmed. People buy tickets when they don't even know who is going to play. (I recognise that this observation needs tempering when we learn that organiser Emily Eavis actually received death threats for booking Kanye West as a headliner in 2015.) And the attractions have got to include some of the following, which are precisely not about the actual music:
The countryside and the genius loci of that place, with all its mystical swirl, Arthurian legend, the Tor in the distance, the legend of the Holy Grail. (We can think of these as about the experience or invention of a different kind of Englishness, an Albion.)
The social event, which is a mass happening where the temporary community of the crowd, living in a constructed canvas village, comes together in a rejection of the atomising individualism of digital culture. OK we have our mobiles at Glastonbury, but we tend to leave the macbook behind! We seem still to want the communal. (Elsewhere, I've called this impulse the 'congregationist imperative'.)
And yes, the festival is about us: we the crowd are the main event, not the bands on stage. I remember a decade or two ago at Glastonbury seeing a major American band coming on stage and the bassist taking a camera from his pocket to photograph us, and I thought, yes that's right, we are the main attraction. There's nothing particularly special or notable about another four guys on a stage, again, but there definitely is about 150,000 people rolling up in one go to some deep green fields in the middle of nowhere. (It's the confirmation of carnival theory's blurring of the distinction between participant and observer in action.)
The idealism or ethics of Glastonbury. In spite of everything—pre-registering online and photo-ID, ticket prices, double security fences with watchtowers and patrols, for goodness sake!—there is still a certain level of campaigning and fundraising for 'worthy causes' (as the festival, held at Worthy Farm, nicely puts it) here, a proven sense that Glastonbury remains about, as original organiser Andrew Kerr put it in 1971, promoting and exemplifying 'a respect for nature and life'. I knew Andrew, he was a lovely man, and a bit of me still believes that vision of his."