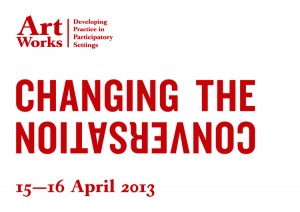 I've just returned from two fascinating days at the Changing the Conversation: Artists' Practice in Participatory Settings conference, at Lancaster University (15-16 April). It was organised by Artworks, a three-year Paul Hamlyn Foundation special initiative across the UK, and opened with a quotation from an Arts Council report from way back in 1979, the first to reflect on the then new policy of funding community artists, which expressed, plaintively, that 'community artists are the most difficult to work with … they always want to bite the hand that feeds them' [howls of laughter]. Spread through the conference were three 'provocations', intended to, well, provoke, which you can read here.
The conference was focused on the relation between participatory artists and their organisations, and colleges of education and universities. There was a good deal of talk from community artists about how universities and specialists colleges don't necessarily train you for the real world, and how that might be shifted. There were slightly more defensive responses from academics about all the kinds of collaborative and placement work they and their students in fact are engaged in. There was a little talk of … ivory towers (ever been in one?). So: conversations still to be had, as well as changed. These were, after all, days of dialogue.
We were clearly directed at the very start not to have all the old conversations, not to get stuck in the old unhelpful binaries (as you see above, that was difficult at first, but we had to begin somewhere). In particular, we were discouraged from even speaking in terms of 'instrumental' vs. 'intrinsic' cultural practice and value. And, said some, while we did want to change the conversation, we really ought to be thinking about how to change our practice.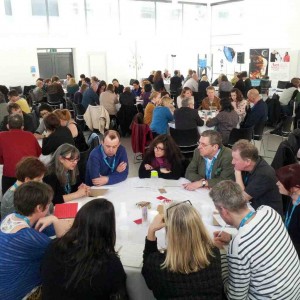 Collaboration across sectors was emphasised—and this was one area in which universities and colleges could continue and even enhance their contributions, around training / CPD, some research, evaluation, some commissioning. HEI folk explained the shifts in agendas and work around areas like employability and impact. But it wasn't all about what universities and colleges do and don't do: there was a strong feeling from the floor of participatory artists that systematic mentoring opportunities are essential for development.
Greater collaborative opportunities were opened up, articulated in the story of the Philadelphia Orchestra which, after years of 'outreach' with disadvantaged local communities (often in the form of a small ensemble playing some of the classical repertoire in a community venue or event, say), actually asked those local communities what they really wanted. Came the reply: 'No more ensembles!' Instead: work with us, fit around us, make some music for songs of our stories.
This echoed some of the points of the Connected Communities Programme, of course: around inverting a power relation, flexible and reflexive working, questioning who are the experts in this work (and they are not always the academics!), knowledge exchange, co-produce and co-designed questions and activities.
Participatory artists wanted to feel more confident with failure, both a poetics of failure and the notion of failure and its interesting learning points. (We've heard this in Connected Communities too.) Someone said to vigorous nodding that project funded artists aren't allowed to fail, or to explore the questions and situations of failure, because that could stymie the next application. But failure isn't negative, and in fact failure is an inevitable—even desirable—outcome of risk. Anna Cutler, Director of Learning at Tate, confessed to having 'project doubt', and this wasn't doubt about an individual project, this was doubt about her life project of participatory arts education!
In a terrific address by Prof Helen Nicholson of Royal Holloway, at the start she wanted us to move beyond the familiar redemptive narrative of participatory arts (they redeem you, and are good for the soul and society), but by the end she was calling for a reinscription of the utopian in practice. Someone else said the difficulty for many artists is the moment a few years after they have graduated, when their energy and will to work at usually low rates, subsidising creative community practice with other stuff, has dissipated and there's a feeling that they are 'Getting nowhere'. But we discussed too that the meaning of that punning term utopia is twofold, it's 'a good place (eu-topos) that is no place (ou-topos)'. Utopia is nowhere. Getting nowhere might actually be getting to utopia. You see, we wanted to feel good, as well as critical and reflexive.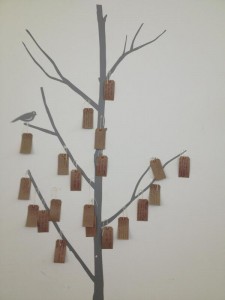 Graham Jeffery, Reader in Cultural Enterprise (I bet that's incorrect. And would Graham have such a title?!) at the University of West of Scotland, brought a harder political edge to proceedings, the kind of talk which had been bubbling around a lot of the time, anyway. To make us think about issues like the following:
the idea of the 'portfolio artist'—a term discussed with some acceptance and even as a possible new label—is problematic, and could be a way of (uncritically) accepting the contemporary precariat as artist class;
are we changing the conversation really, or has the conversation already been changed hugely by the coalition government's reshaping of the cultural policy and funding landscapes, making ours the secondary or reactive discourse of the powerless, or the less powerful anyway?
Pete Moser of More Music, one of the UK's leading community music organisations (fortunately there are numerous such) was there to sing us some songs he co-wrote about the conference's issues and terms with those delegates who attended his actual participation session. His presence reminded me that in fact one of the reasons I am such an advocate of Connected Communities is because it's with people like him that I've been doing it for years: we co-edited a book together in 2005, for instance, called Community Music: A Handbook, full of practical exercises and repertoire—that is, we made a community-led and co-produced output between academia and community arts partner.
Videos, audio recordings, photographs, twitter conversation #artworksctc, that took place at the conference are all collected and available here.