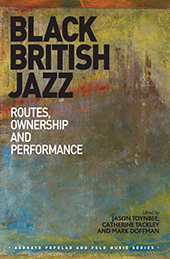 I'm very pleased to be part of a new book, Black British Jazz: Routes, Ownership and Performance, edited by Jason Toynbee, Catherine Tackley and Mark Doffman, in which I go back to look again at the 1950s pianist, chart-topper, and television presenter, Winifred Atwell. My chapter is called 'Winifred Atwell and her "other piano": 16 hit singles and "a blanket of silence", sounding the limits of jazz'. You can find information about all the chapters for the entire collection at the Black British Jazz contents page, while below is the book's blurb:
Black British musicians have been making jazz since around 1920 when the genre first arrived in Britain. This groundbreaking book reveals their hidden history and major contribution to the development of jazz in the UK. More than this, though, the chapters show the importance of black British jazz in terms of musical hybridity and the cultural significance of race. Decades before Steel Pulse, Soul II Soul, or Dizzee Rascal pushed their way into the mainstream, black British musicians were playing jazz in venues up and down the country from dance halls to tiny clubs. In an important sense, then, black British jazz demonstrates the crucial importance of musical migration in the musical history of the nation, and the links between popular and avant-garde forms. But the volume also provides a case study in how music of the African diaspora reverberates around the world, beyond the shores of the USA—the engine-house of global black music. As such it will engage scholars of music and cultural studies not only in Britain, but across the world.
And here is a link to the Google Book version of the collection:

[Extract from introduction to my chapter] … From Tunapuna, Trinidad, Winifred Atwell (c. 1914-1983) was a classically trained ragtime and boogie-woogie style pianist who gained quite remarkable popularity in Britain, and later also Australia, in the 1950s, in live and recorded music, as well as in the developing television industry. In this chapter I outline her extraordinary international musical biography as a chart-topping pop and television star—innovative achievements for a black migrant female musician which are arguably thrown into more dramatic light by virtue of the fact that Atwell has been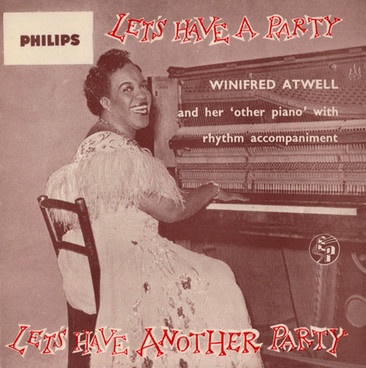 and remains a neglected figure in media and popular music (let alone jazz) history. I pay particular attention to her performative tactics and repertoire, developing material I introduced first in Circular Breathing: The Cultural Politics of Jazz in Britain. But our interest in Atwell should stem not only from her position as a significant figure neglected by history, for she speaks also to definitional issues of jazz. The chapter progresses into a discussion of the extent to which Atwell is a limit case of jazz in the developing pop world of the 1950s on….
Atwell topped the British singles charts twice, with 14 other top-30 singles during the 1950s, and she was also the first black million-selling singles artist in British pop history. Most of these achievements were the result of her playing jazz-derived instrumental music (solo or with a trio or quartet: piano-guitar-bass-drums). (Here you can read an interview I did with her drummer from the period, Colin Bailey.) Hers was a striking early example of a multiplatform media and music success: prestigious live performances and international tours, hit records, pop-jazz and classical repertoires, radio broadcasts, sheet music and piano instruction book sales, television presenter fronting her own series (on both main British channels and in Australia), and film appearances on screen and in the soundtrack….