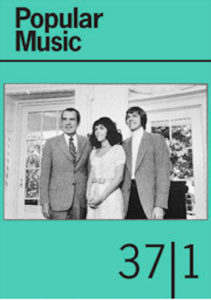 I am delighted that some work I have been researching for the past 18 months or so is now published. My article 'Skinny blues: Karen Carpenter, anorexia nervosa an popular music' is now available in Popular Music (January 2018) vol. 37(1): 1-21.
This is a development of some of my work on disability and pop. I would like to thank a reviewer of Shakin' All Over: Popular Music and Disability for asking in her review something like, Why no Karen Carpenter?, and setting me off on a journey. That was Jessica A. Holmes, in Ethnomusicology Review. Good question. Also I thank my University of East Anglia colleague Su Holmes (no relation) for initial critical discussions and for sharing some resources, as well as for a sharp critical reading of a draft (errors remain mine).
Below is the abstract, which describes the content and argument of the piece. The article contains four black and white images, including one (right) which I'm pleased to see also adorns the journal's front cover.
You can download the complete article here for free: skinny_blues_karen_carpenter_anorexia_nervosa_and_popular_music
This article discusses an extraordinary body in popular music, that belonging to the person with anorexia which is also usually a gendered body – female – and that of the singer or frontperson. I explore the relation between the anorexic body and popular music, which is more than simply looking at constructions of anorexia in pop. It involves contextually thinking about the (medical) history and the critical reception and representation, the place of anorexia across the creative industries more widely, and a particular moment when pop played a role in the public awareness of anorexia.

Following such context the article looks in more detail at a small number of popular music artists who had experience of anorexia, their stage and media presentations (of it), and how they did or apparently did not explore their experience of it in their own work and public appearances. This close discussion is framed within thinking about the popular music industry's capacity for carelessness, its schedule of pressure and practice of destruction on its own stars, particularly in this instance its female artists.

This is an article about a condition and an industry. At its heart is the American singer and drummer Karen Carpenter (1950–1983), a major international pop star in the 1970s, in the Carpenters duo with her brother Richard; the other figures discussed are Scottish child pop star Lena Zavaroni (1963–1999), and the Welsh rock lyricist, stylist and erstwhile guitarist of the Manic Street Preachers, Richey Edwards (1967–1995 missing/2008 officially presumed dead).