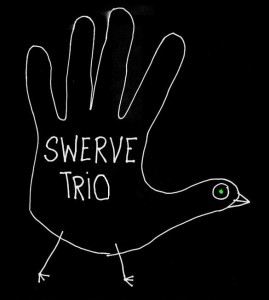 During a rehearsal over the weekend by Swerve Trio in the lovely acoustic space of the Jack Hylton Room at Lancaster University (named after the famous English bandleader) we worked on a couple of my compositions. Am pleased with the results, still work-in-progress (when isn't jazz that?), but really taking shape and getting there. Sympathetic treatment by Nick Gebhardt on soprano sax and Richard Rushton on drums.
____________________________________
Mellipsis. The first one is from over 20 years ago, from when I lived and played in Glasgow with several bands, for one of which I wrote all the music. When I joined Swerve I dug out the archive of old pieces, to see if they were any good, and which if any might be suitable for this line-up. As soon as we first played this one even roughly through we thought it would work. It's a sort of minor jazz waltz, with a fairly standard structure of A-A-B-A, almost 32 bars (actually 33—there's an extra bar at the end of the B section throughout), solos over head chords. It was originally called 'Mmm…', which looked good on paper but was terrible to say live at gigs, so I've nuanced the title. Now it's called 'Mellipsis'. It had its first public outing in 20 years last month when we opened the Morecambe Jazz club.
____________________________________________________________________________
Alleycat boys. The second composition is a new piece from this year, called 'Alleycat boys'. This one in fact is 32-bar, A-A-B-A, very standard. First came the A section bass line, just wanting to have a little bit of an African jazz feel, picking up probably some of that Blue Notes/ Chris McGregor/Brotherhood of Breath/Dedication Orchestra rhythm from listening to those musics for years. G maj-D maj-C maj, but with the drive of the bass line. I added a B section where it goes to E min and A min. I used to try and write more clever music (which I was honestly not very good at), now I'm more comfortable aiming for a straightforward and, well, in an ideal world, memorable melody. The drums here really propel it forward. It's great to be writing again—even at my rudimentary level, that of the autodidact musician—, especially with a trio like Swerve who will find what works quickly and enhance the very bare bones of chords and melody I produce into something altogether more interesting.