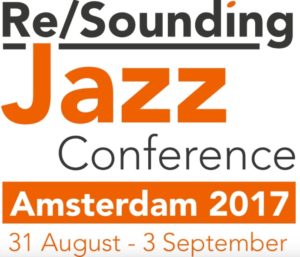 I am pleased and excited once again to be a member of the organising committee for this event, the—now, wow!—fifth Rhythm Changes international jazz studies conference. Looking forward to it immensely, once more. It's our third such conference in Amsterdam, the other two being held in Salford and Birmingham. In fact, here is the complete list, which I post here as a brief reminder (to self as much as you) of the effort we as a team of researchers from Europe have put into building a new community of jazz scholars across much of the globe, and the enthusiasm with which that effort has been greeted:
2011 Rhythm Changes #1: Jazz and National Identities, Amsterdam Conservatory
2013 Rhythm Changes #2: Rethinking Jazz Cultures, University of Salford
2014 Rhythm Changes #3: Jazz Without Borders, Amsterdam Conservatory
2015 Rhythm Changes #4: Jazz Utopia, Birmingham City University
2017 Rhythm Changes #5: Re/Sounding Jazz, Amsterdam Conservatory.

---
Resound verb
(of a sound, voice, etc.) fill or echo throughout a place.

Synonyms: echo, re-echo, reverberate, ring out, fill the air, boom, peal, thunder, rumble.

(of a place) be filled or echo with a sound or sounds.

Synonyms: reverberate, echo, re-echo, resonate, ring, vibrate, pulsate.

(of fame, an achievement, etc.) be much talked of.

Synonyms: be acclaimed, be celebrated, be renowned, be famed, be noted, be glorified, be trumpeted, be talked about.
Resounding adjective
(of a sound) loud enough to reverberate.

Synonyms: reverberant, reverberating, resonant, echoing, vibrant, ringing, sonorous, deep, rich, clear, loud, deafening.
The fifth international Rhythm Changes Conference Re/Sounding Jazz takes place at the Conservatory of Amsterdam from 31 August to 3 September 2017. The event is delivered in partnership with the Conservatory of Amsterdam, the University of Amsterdam, Birmingham City University, the University of Music and Performing Arts Graz, CHIME, and a number of academic publishers and journals. Re/Sounding Jazz is we think the largest event of its kind world-wide: we expect around 150 participants.
Keynote Speakers
Dr Sherrie Tucker (Professor of American Studies, University of Kansas).

Dr Wolfram Knauer (Director of the Jazzinstitut Darmstadt).
All further conference information is available here. You coming?