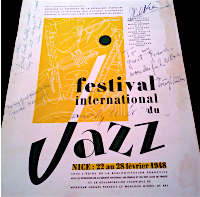 The history of the jazz festival in Europe goes back to the early post-war years, when one visionary city organised a set of concerts over a few days in seafront venues round the resort. These featured both national musicians as well as a sprinkling of US headliners, including the transatlantic star Louis Armstrong. We can think of it as a gesture of cultural futurity, with the aim of sounding a better international situation after the war years. They called it the 'festival international du jazz', the year was 1948, and it happened in—Nice, France. Thus the European 'jazz festival' was born, in Nice.
In England the earliest jazz festival would be Beaulieu Jazz Festival (1956-61), while perhaps the most famous European event, Montreux Jazz Festival, was founded later still, in 1967. (A book marking 50 years of Montreux is published this year.) But it was Nice Jazz Festival, in the late 1940s, that set the template.
Within a few years Nice would do something else marvellous for jazz, for jazz's heritage and sense of place and relation to the past: Nice located its festival of jazz, that clashing music of modernity, in the Roman amphitheatre to the north of the city. Go there today and you can see busts of famous jazz musicians who played there in the park next to the amphitheatre, a neat public recognition of that jazz moment in that great city by the Mediterranean.
This year's festival was due to start today, hundreds of musicians and thousands of festival-goers coming to Nice, under the sun and stars, by the sea, for a celebration of a music which, at its very best, is an outernational music of dialogue and listening where we might just for a second glimpse or hear another, better world. I know that sounds like a jazz utopia but, you know, we had a conference recently on the very theme of #jazzutopia, so it's in the air.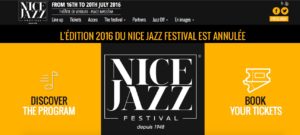 But the 2016 Nice Jazz Festival was cancelled yesterday, as a result of the terrible atrocity on the Promenade des Anglais on Thursday night. Nice est en deuil. We should listen to the silence of the jazz not happening there this weekend. From another festival city, Edinburgh, where a group of scholars and musicians is meeting this weekend during the Edinburgh Jazz & Blues Festival at a conference marking '50 years of European jazz', we send wishes of sympathy and solidarity, anger and love, and the desire for peace and a different sort of future that jazz can sometimes still sound, and that a festival can still capture. Vive Nice Jazz Festival.