Anarchist art in the Daily Mirror (thanks @samkbennett). The work of Gee Vaucher of Crass @crasslyrics @pennyrimbaud1 pic.twitter.com/Bumz1U72LS

— George McKay (@george_mckay) November 10, 2016
On the twin occasion of a major retrospective of her work over 50 years and the surprising appearance yesterday of one of her pieces as the full front page of a national British newspaper, I thought I would share some of the short essay I have written about Gee Vaucher for the exhibition catalogue. It's quite a week for this artist: Daily Mirror front page and a global viral image yesterday, and the exhibition opening this evening. My catalogue essay is entitled 'Gee Vaucher's punk painting as record sleeve', and here I discuss her (in)famous inside poster image for the 1980 'Bloody revolutions' single. The other contributors are Vaucher herself, Penny Rimbaud, Patricia Allmer, John Sears, Rebecca Binns, Yuval Etgar, Martina Groß, and editor Stevphen Shukaitis.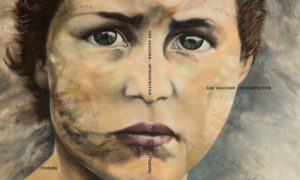 The black and white streetscape is the now familiar one of contemporary urban dystopia—deprivation in the cracked walls and pavements, a badly boarded-up shop front, a glimpse of suburbia (house number 84, as in the year) where a uniformed officer is engaged in a violent struggle with a man, anarchist and pop graffiti on the walls, an advertising billboard with its image of female sexual promise. Competing slogans: 'Underneath they're all lovable' from the lingerie ad, then Crass's stencilled and logo'd challenge: 'WHO DO THEY THINK THEY'RE FOOLING; YOU?'

As is the nature with much propaganda (OK, discuss….) there's something a little obvious in the punk/world leader doubleness—a set of single-hit visual puns presented to the viewer with the expectation that a double-take will be generated, consensus temporarily disturbed. Juxtapose to deconstruct: Sid Vicious's body with Queen Elizabeth's head, guitarist Steve Jones headed up by Pope John Paul II, that sort of thing. But when you look at the figure on the right, it's altogether more interesting, because politically complex. Blonde on blond: the radical right-wing Prime Minister's head on Sex Pistols singer Johnny Rotten's body. And vice versa.

It's all in the hair! Dyed blonde on dyed blond. Two radicals moving in one space, each wrapped in a Union Jack while changing the nation. It was the political consensus of many early punks—and almost everyone on the left—that, unlike the Rotten figure here, Thatcher didn't need to wear a DESTROY t-shirt, for she was the arch-destroyer. She had a safety-pin in her handbag. In this brilliant moment from Vaucher's brush, Thatcher and Rotten are a united/twinned pair of blond/e bombshells, 'potential H-bombs'. A troubling union—wonderfully provocative anarchist art. Shooting at both sides….

Crass were missionaries, from some other place (Epping, or the Sixties, maybe), and Vaucher with record cover art like The Feeding of the Five Thousand and 'Bloody revolutions', made punk a much more interesting, complex, contradictory culture, or belief. I mean, what was it Patti Smith said (apart from 'Jesus died for somebody's sins, but not mine', which Crass also reworked)? 'If you want to see where the world's been, just look through some old album covers'. Sound visual historicising, that.
Gee Vaucher's exhibition, Introspective, is at the Firstsite Gallery, Colchester, 12 November 2016-19 February 2017. Information here.