It was my pleasure to be the Public Orator for the award of an honorary doctorate to the singer and actor Camille O'Sullivan at one of my university's graduation ceremonies this year. My job was to make the speech introducing Camille and outlining the achievements of hers that we wanted to recognise with the award. She responded with her own speech (much funnier than mine) and finished with a burst of a song (Leonard Cohen's 'Anthem'), which brought the house down and was a wonderful finish to the ceremony.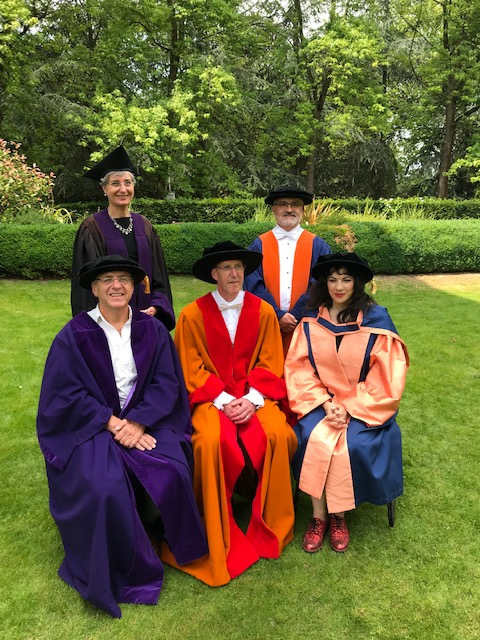 Irish-French Camille O'Sullivan is a singer/actress who enjoys a formidable international reputation for her unique dramatic interpretations of the narrative songs of Nick Cave, Jacques Brel, Tom Waits, David Bowie, and more. The award-winning singer – an original star of the Olivier Award-winning La Soiree– has stunned audiences around the world with 5-star sell-out performances. Her solo shows include Sydney Opera House, the Royal Festival Hall, a 6-week London West End run, and her regular seasons during Edinburgh Festival are always a highlight. The BBC has called her the 'Queen of Edinburgh Festival'. Her show-stealing live appearance on Later with Jools Hollandwas subsequently judged one of the best ever performances in all the years of the programme by the Daily Telegraph.
She has worked with the Royal Shakespeare Company in a tour de force, one-woman show of Shakespeare's The Rape of Lucrecefor which she received a Herald Angel award for outstanding performance. She starred in the Stephen Frears movie Mrs Henderson Presentsalongside Dame Judi Dench, appeared at the invitation of Yoko Ono in her Meltdown Festival, and starred at Galway International Festival and the Barbican in a stunning convergence of musical theatre of Schubert and Buchner. More locally, she is a firm favourite with Norfolk and Norwich Festival audiences, and regularly visits our fine city. She is an artist of intense emotion and expression, who can uncover and articulate something deep or dark or desirous in—of all things!—a pop song.
In one of her many 5-star reviews, Camille is described as 'A cross between Sally Bowles, Patti Smith and P J Harvey.' In another, 'When she sings it's as though her breath is soaked in paraffin – one spark, and the whole room would ignite…' Please, no smoking.
She turned away from a successful early career in architecture, to embrace performance and singing. For her these are not necessarily entirely disconnected: 'A song is like a journey through a building', she says: 'light, shade, dark, small, dramatic, intimate, explosive. I like to make a song change on a dime.'
Camille O'Sullivan speaks of a creative curiosity which is born of an embrace of risk and struggle. Not for nothing is one her albums entitled Changeling. This is the woman who did indeed, after all, run away to join the circus. This is the woman who graduated with a top degree in architecture, winning prizes and scholarships, lectured in university, exhibited as a painter and working as an architect, who gave that clear career up to become a singer and actor. She cites as inspirations the likes of storyteller-in-song Agnes Bernelle, Grandma Moses who became an artist in her late 70s, or, nearer many of your life stages, Leonard Cohen, who did not even begin recording songs until his mid-30s: it's never too late, you can never not change, never not create. 
'Any theatre person or performer,' said Camille earlier this year, 'needs to be true to themselves, even if it means you lose the audience. Which is an awful thing to think of. But there's no good reason for you to sing the same song forever, because then you're just a wind-up doll. If you're going to lose the money and have the heartache you may as well do it on your own terms'. That combination of idealism and hard-headed real-world experience, framed by shining success, is well worth noting and celebrating. There are lessons here for the many young creatives in the room today, and, we hope, there is inspiration from this extraordinary international artist.
Vice-Chancellor, I present to you Camille O'Sullivan for the degree of Doctor of Letters, honoris causa.