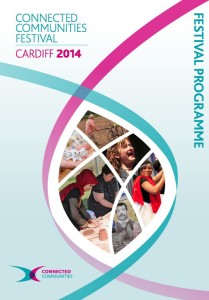 … One of my key roles on the Connected Communities programme is to ensure and champion the critical central presence of arts and humanities scholarship, texts and practices. In what ways are communities creative, how does creative practice make or exclude community, how are communities represented, romanticised, invented, nostalgised (at MediaCityUK in Salford ITV has recently opened  the brand new build of the Coronation Street set)?
I said I was interested in festivals. And here we are at one. And this event really does feel like it has the quality of a festival, not just a summit or gathering of projects and partners. There's more here I think—partly it's quantity and the sheer range and variety on  offer across multiple venues, taking over and remaking space, claiming the public sphere. It's also I think the spark of celebration I feel here—have we really made all this, together?—and the chance of encounter, of fun, of provocation, juxtaposed and clashing. And okay, a key aspect of the carnivalesque is the inversion of the norm, and an overturning of everyday rules where the distinction between participant and observer is blurred. Now, we might manage some of that, at a punk rock gig or a participatory performance or a political march—we've got all of those happening here—but we might also just discover a little piece of magic, an idea or a thought, via the earthy hand of an archaeologist or a gardener.
From a dig to a gig, from a walk to a talk, from holding a banner to being a flaneur, from a bazaar to possibly the bizarre, it's all here folks. (Is it?) Roll up, roll up.