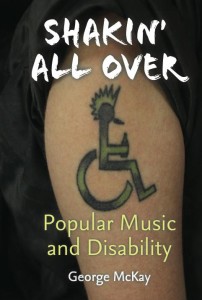 [This follows on from a discussion of polio and the youthful experience on the part of survivors of hospitalisation, residential treatment, rehabilitation, and so on, and how that might contribute to the artistic compensation of the isolate.] In the case of reggae group Israel Vibration, the fact of institutionalisation was formative for the group: separation from the majority effected a stronger minority identity, since the three original members met and began to sing with each other as polio survivors and long-term residents at the Mona Rehabilitation Centre, near Kingston, Jamaica.  The three young men had several points in common: a passion for the close harmony reggae singing popular at the time, an interest in Rastafarianism, and the experiences of polio and institutionalisation. Their first public performance was at the Theological College next door to the centre in 1974. When they left the centre, some other Rastafarians rejected them, seeing their impairments as a punitive sign from God. When performing live onstage the singers are able to stand and move around by use of their crutches, while on the cover photography of their 2002 album Fighting Soldiers, they pose with their walking aids in a rundown street. In one image, they hold the metal crutches like rifles and point them at the viewer—a mix of gangster and 'fighting' polio survivor. Occasionally Israel Vibration sing songs that resonate with their experience of impairment, while even the reggae accompaniment, with its characteristic and insistent offbeat rhythm and chords, seems suddenly more fitting for musicians with mobility difficulties, where a lilt is no longer so far removed from a limp. Indeed Israel Vibration invite us to consider reggae music per se as a music of disability, precisely because of its alla zoppa characteristics. (You need to read the book here for elaboration.) Songs from Fighting Soldiers with titles like 'Tippy tippy toes' and 'Level every angle' emphasise the visual and sonic narrative of disability. It is not difficult to hear the latter as extending the fairly standard post-civil rights and post-Bob Marley rhetoric of one love reggae into a kind of disability rights context. So 'Level every angle' becomes at least in part Israel Vibration's plea for public spaces and design to consider the access requirements of mobility-restricted people, as they sing:
Some people are blessed while others are cursed… / From every angle things should be level / And everything would be all right….
Watch and enjoy on repeat view this brilliant video from 1995, for the two-chord-wonder 'Rude boy shufflin", with quite the best polio dancing you might ever see, from the crutch-wielding IV singers (when they were still a trio) in contrast to the displayed muscled body of the rude boy gangster figure, who struts through the video. And I love the apostrophe in the title, just like for shakin'. What a word: 'rejectedly'. And the ambivalence of shuffling, a form of dancing and moving to the music, that's also a description of poor walking. Level.