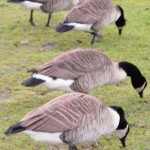 A few days to go now until delegates for the Media Communication & Cultural Studies Association (MeCCSA) annual conference roll into town. This is the 11th MeCCSA conference, and this year we are hosting it in Salford, at the Lowry at Salford Quays. There is a certain high level of nervous but hopefully focused energy buzzing around this particular part of Greater Manchester at the moment as we pull together the final strands for the three days.


MeCCSA is the UK subject association for those researching and teaching in media and cultural studies, whether in arts, humanities or social sciences departments. MeCCSA 2011, as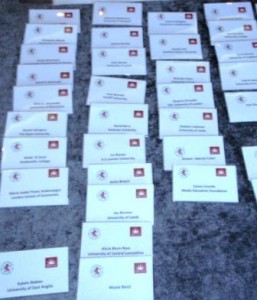 our conference blurb explains, "is being held at the award-winning theatre and arts complex The Lowry, at Salford Quays in the city of Salford. This is adjacent to MediaCityUK, where the BBC, the University of Salford, and other media and creative organisations have new facilities and buildings".
I submitted a proposal for the Salford to host the conference about two or possibly more years ago, and now, next week,
between 150 and 200 UK and international academics and research students are coming to talk with us. Wonderful! We've over 40 panels on subjects from film in education to obscenity, radio studies to foreign correspondents, ethnic media representation to sitcoms, and many more. We've keynote speakers talking about the BBC "move north", disability in the media, ethnography, and others. Publishers and academic presses set out their stalls and commissioning editors seek out the best new book ideas from delegates. PhD students turn up a bit nervous because they are giving their first academic paper.
(I did that at an EngLit and Theory conference 20 years ago, worked myself up beforehand. A big professor in the field, Antony Easthope, came to the session I was in, which naturally made me even more nervous. But he was very kind actually and overlooked my unnecessarily over-dense use of language. Hey, it was the theory wars.)
In the bars and at the AGM the main topic of conversation will be about the impact of the cuts on  universities and the public sector, and the recent student protests–and bankers' bonuses… There is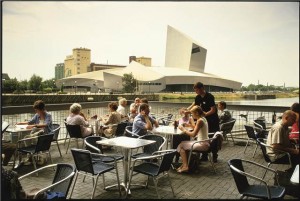 particular ire I think at the conservative-led government's removal of the teaching grant for humanities and social sciences  degrees, as well as at the removal of the Educational Maintenance Award, a grant for lower-income students to enable them to study the A levels they need for university.  I anticipate that there will be gloom and anger as well cultural energy and the flow of ideas.
I've woken up at night twice this week with new things popping into my mind that could go wrong….