One of the bands I am in played a magical gig in June. Tangential is a jazz trio of trumpet/loops, double bass and drums doing a mix of originals, standards and the odd pop song. We play fairly regularly around the Norwich area.
We were booked for the East Anglian event in a UK-wide celebration of landscape, art and community called Green Space Dark Skies. Early one June evening we were boated out to a pontoon in the middle of Barton Broad, one of the Norfolk Broads, and were asked to set up right on the narrow edge of the pontoon.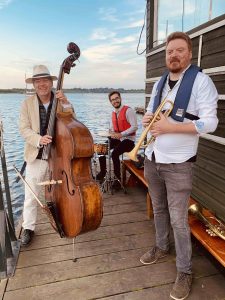 We were to play an unamplified set for an extraordinary flotilla of traditional Broads boats (including four of the eight surviving Norfolk wherries), yachts, kayaks, and adapted boats for disabled people to sail. It was sunset and then dark, and the entire event was illuminated by hundreds of handheld coloured lamps by people on their boats. A programmer choreographed the changing colours of all the lamps as the boats moved across the water.
All the boats sailed and rowed past us, only feet away from the band, and cheered, shouted or snapped jazz fingers as our sounds floated over the water. Sometimes the folk on the moored wherries in the distance danced in time to our music. It was dazzling, and magical. The darker it got, the stronger the colours.
From each event Green Space Dark Skies produce a film, and here is ours….