I'm pleased to be organising this conference with Dr Lucy Wright, Senior Research Associate on my current AHRC Connected Communities project on DIY Culture and Participatory Arts, and the Connected Communities team here at the University of East Anglia, Rachel Daniel and Jess Knights. Here is the call for papers.
---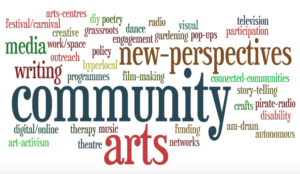 This FREE conference, organised by the AHRC Connected Communities programme, seeks to draw together the new knowledge and practice generated by and emerging from funded research projects across Connected Communities as well as more widely in the fields of community and participatory arts. One of the progamme's eight strategic focuses has been around participatory arts—this is an opportunity for those involved to share their work and thoughts with other project teams and communities.
Keynote speakers
We are delighted to be welcoming:
Professor Helen Nicholson, Royal Holloway, University of London, co-author of The Ecologies of Amateur Theatre and co-ed. Critical Perspectives on Applied Theatre, Principal Investigator on AHRC CC project Amateur Dramatics: Crafting Communities in Time and Place
Steve Pool, Sheffield-based visual artist, community artist, researcher, as well as AHRC CC project Co-Investigator, and Artist in Residence on Imagine project.
We welcome contributions from community professionals, arts practitioners and academic researchers alike (recognising that these categories may be productively fluid), both from those who have been involved in Connected Communities projects and others with relevant expertise or interest. Themes for discussion include but are not limited to:
Moving beyond 'with not for': changing ideas about collaboration between diverse individuals, groups and organisations
The role of creative practice within participatory and community arts
Creative work in the community: education and pedagogy, training, careers, precarity
Terms: 'participation' / 'community' / 'social' / 'everyday'
Continued usefulness or otherwise of key paradigms: product/process, cultural value and quality
New(-er) approaches to and opportunities for widening access from participatory arts—digital disabilities, internationalisation of practice, working with refugee/migrant groups, links with development agendas/Global South
New historical and critical studies of the community arts movement
New thinking in theoretical approach
Shifting policy / funding landscapes: cultural and community policy questions
Art / health / well-being.
Proposals of 250-300 words are invited for presentations / interventions of 20 minutes, panel discussions, creative contributions. These should be sent as a Word attachment to: cc.admin@uea.ac.uk and include the following: title, presenter(s), affiliation(s), short biography (100 words), Connected Communities project(s) where relevant, email address for contact.
The deadline for submissions is: 1st March 2018 (we may be extending this a little because of UCU strike action in the two weeks preceding the deadline)
Further information
The conference is free although registration is essential. Registration will open 5th March 2018 at https://connected-communities.org/
The conference will take place on the 22nd and 23rd of May at the University of East Anglia, Norwich. There will be a free evening event and meal provided for conference delegates at the Sainsbury Centre for Visual Arts on the 22nd of May.
We can provide conference speakers with accommodation for one to two nights. Please state on your application the dates that you require accommodation. Reasonable travel expenses can also be claimed from the Connected Communities programme.
A limited number of bursaries are available to support UK-based community partner and ECR/PhD attendance. If you would like to apply for a bursary please contact cc.admin@uea.ac.uk for further details. Deadline for bursary applications is 16th March. Please also indicate the nights that you will require accommodation.
For further information contact cc.admin@uea.ac.uk.