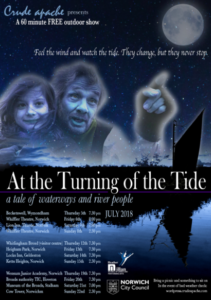 Looking forward to playing some of the shows in community theatre company Crude Apache's latest free summer touring production of original play and songs, with the music supplied by most of the Punch House Band. It's called At the Turning of the Tide, and the play takes as its starting point one of Tim Lane's songs, a crowd favourite as played regularly by the Punch House Band, 'Wherryman's wife'. It's in some great locations, across the Broads and rivers, pubs and parks, and in Norwich. It's
a high energy show full of music, tears and laughter. The show tells the story of the Norfolk Wherries, the great trading vessels of the Broads, which reached their heyday in the mid-nineteenth century before suffering a terminal decline with the arrival of the steam railways.

Set in the second half of the nineteenth century and told through the lives of one family, the tale follows the heartaches, triumphs, losses and disasters of the river folk of Norwich and Norfolk.

Accompanied by music from The Punch House band, the sixty minute show is suitable for all the family – bring a blanket or something to sit on, a picnic and a drink and enjoy a trip back in time to witness some of our most poignant and fascinating heritage.
Alas I can't do all the shows but the ones with the extra bass booming around the trees and broads hopefully will be as follows (if you can't make one of these there are plenty of others—see the poster):
Saturday 7th July, 7.00, Lion Inn, Thurne (hoping to do this one; not sure yet)
Sunday 8th, 2.30, Whiffler Theatre, Norwich
Thursday 12th, 7.30, Whitlingham Broad visitor centre
Friday 13th, 7.30, Heigham Park, Norwich
Saturday 14th, 7.30, Geldeston Locks.
This is the life / This is the life / This is the life / Of a wherryman's wife!