… and Glastonbury Tor transplanted from the West Country, Williams Shakespeare and Blake, marching Suffragettes waving banners, nurses and the National Health Service—that's socialism in the public sector, currently under threat—Windrush migrants from the Caribbean, Critical Mass demonstrators arrested outside the stadium. I am amazed that such an event should present a version of Britain I can actually recognise. And Evelyn Glennie (disabled) percussing, and Bowie's 'Heroes' for the British team's processing, and 500 construction workers—the people who built the stadium—involved, probably some of whom were scaffolders like my saxophonist father.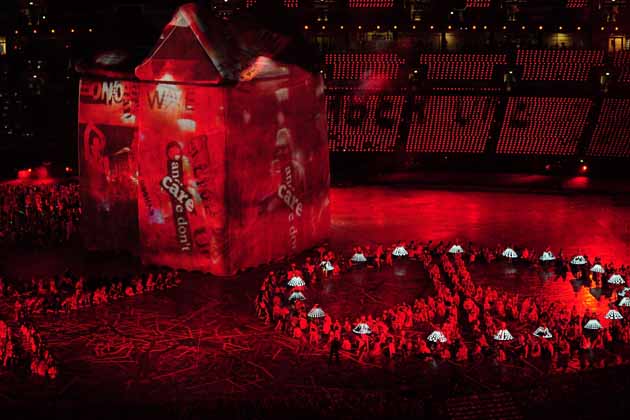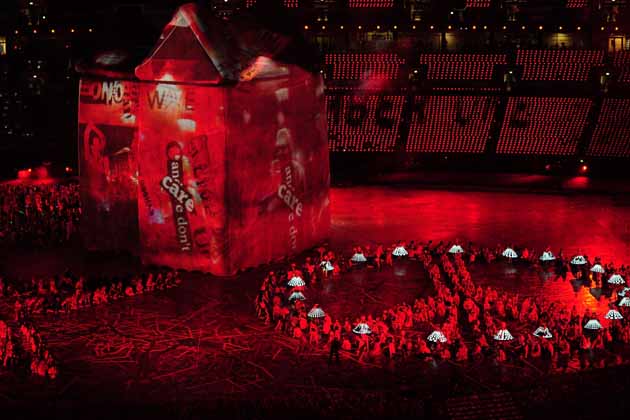 In the bonkers (slang—mad, crazy; © Dizzee Rascal) world of British history we got in the opening ceremony I was impressed most by a moment when the young people dancing formed a peace symbol, or, more accurately, formed the Campaign for Nuclear Disarmament symbol from 1958, while, jumping a couple of decades (there was a lot of that), a record of the Sex Pistols played. We'd heard a fragment of Johnny Rotten (disabled) singing 'God Save the Queen' already—a fab moment itself, for anyone of my generation, who'd seen the band in 1977—but now it was 'Pretty vacant' (with its notorious chorus that has Rotten sounding 'va-CUNT').
We care (CND), and we don't ca-are (Pistols). Brilliant.
[PS btw the day did indeed start at 8.12 am with me ringing a handbell outside the front  door, my participation in Martin Creed's Work No. 1197, 'All the bells…']